Automated & Self Driving Forklifts
Technology in flux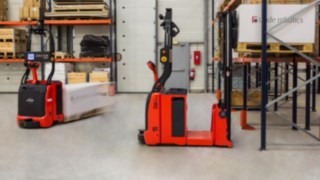 Driverless around-the-clock
Automated logistics trucks are the future of the efficient flow of materials. They take over tiring transport tasks from employees, increase the handling volume and reduce the error and accident rates in the warehouse. Linde Material Handling offers a wide range of cutting-edge automation solutions with self-driving forklifts, pallet trucks and tow tractors from the MATIC series. All models are equipped with intelligent navigation and safety technology, but can also be manoeuvred conventionally via manual control.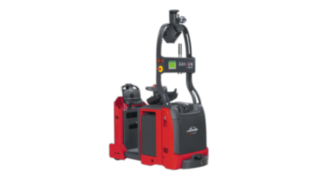 P-MATIC – tow tractor
Transport of heavy goods to the production line
Tugger train applications
Disposal of reusable materials
To the product page
L-MATIC – pallet stacker
Handling and storage at lower heights
From the conveyor belt to mechanised order picking
Handling pallets and pallet cages
To the product page
L-MATIC HD – pallet stacker
Medium-sized lifting and storage device
Load transport from the warehouse to the machine
Handling of pallet cages and transport containers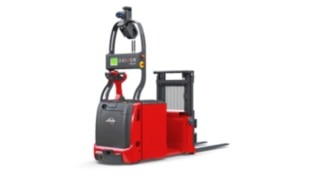 L-MATIC AC – counterbalanced pallet stacker
Handling and storage at lower heights
From storage and retrieval through to conveyor belts
Handling of closed pallets, pallet baskets or pallet cages
To the product page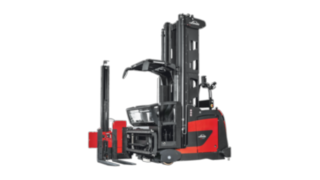 K-MATIC – very narrow aisle truck
Moving goods into and out of storage in narrow aisles at great heights
Modular system
Complete pallet handling
To the product page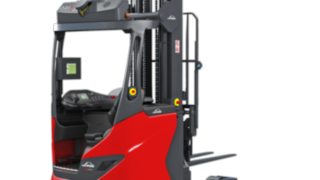 R-MATIC – reach truck
Storage and retrieval at heights
Goods transport to supply production
Innovative 3D camera system for precise storage and retrieval in the rack
To the product page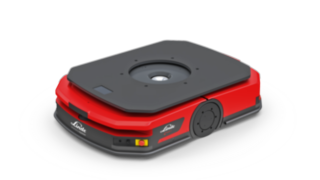 C-MATIC – Autonomous Mobile Robot (AMR)
Direct pallet transport or table transport
Material transport and line supply over short and medium distances
Ideal for application in confined spaces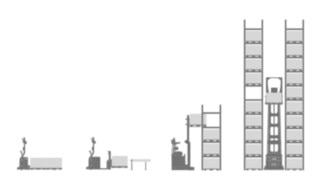 Automation at all levels
The MATIC trucks can be used for a wide range of applications in the material flow. Overall, we need to distinguish between four areas of application: automated tow tractors are used for goods transport. Automated pallet trucks are ideal for the low-level lifting, transportation and setting down of goods. The pallet stackers and reach trucks from the MATIC series are used for storage and retrieval at medium to high rack levels. Finally, very narrow aisle trucks make it possible to automate work even in the tight spaces and great heights of a high rack warehouse.
Geonavigation
The Linde MATIC trucks are controlled by a geonavigation system. Four optical laser sensors scan the truck environment in all directions with a range of up to 30 metres (standard version). The immediate environment is captured by a 3D camera, which is mounted at the highest point of the truck chassis. The data from both recording systems are processed centrally. This enables coordination with other automated trucks and ensures that the MATIC models operate safely even in confined spaces.
External guides, such as guide rails laid in the floor or light reflectors, are not necessary. When changing location, the trucks completely re-map their environment.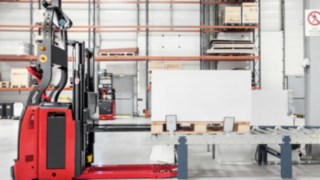 Advantages at a glance
Safe working alongside people
The MATIC trucks navigate so precisely that they can work safely together with people. The trucks detect people and other trucks in the immediate environment and also register suddenly occurring obstacles, such as fallen pallets. The intelligent control brakes the trucks so that they adequately respond to a blockage or obstacles. The MATIC trucks then automatically resume their task. Easily accessible emergency stop switches provide additional safety.
User-friendly for easy handling
All forklifts and pallet trucks in the MATIC series have a clear 7-inch LED touchscreen that displays all the necessary information to the truck user. This shows information such as the travel path as well as the current battery status. The screen lists the current logistics tasks in real-time and provides information about their completion status. A PIN code can be used to export all the service information for the trucks and the data via a USB port.
Cost-effectiveness through perfect harmonisation
MATIC trucks achieve the greatest efficiency gains in areas where monotonous logistics tasks are constantly repeated. They can be integrated into warehouse logistics across shifts, in round-the-clock operation. Every truck has an intelligent control software that allows the entire MATIC fleet to be managed in real time. It assigns tasks to the individual trucks and ensures that routes and speeds are perfectly coordinated. The control software also provides interfaces for applications such as ERP (Enterprise Resource Planning) and WMS (Warehouse Management System), and synchronises the trucks with automatic hall doors and conveyors.
Tailor-made trucks
All trucks in the MATIC series can be fitted with optional additional features and tailored to your specific application. The trucks can be equipped with different drive and lifting motors, different battery sizes, hydraulically adjustable forks, electronically authenticated battery locks and a programmable height restriction of the mast, among other things. In addition, a 2D curtain laser as well as additional laser sensors on the sides of the truck are available for better navigation.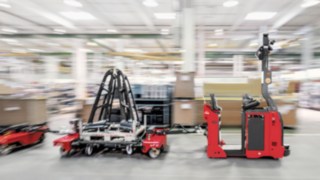 More about our intralogistics and automation solutions