Gas is a tried and tested fuel within the industry. Gas forklifts from Linde Material Handling are reliable partners for demanding transportation tasks, both indoors and outdoors. They offer the performance and reliability of a combustion engine, whilst working exceptionally quietly with as few emissions as possible. Even in continuous operation, they emit the absolute minimum of noise and exhaust fumes. This means that, unlike diesel forklift trucks with a comparable performance profile, they can also be used in indoor spaces such as warehouses and production halls, subject to compliance with the relevant limits.
With their robust construction and powerful drive, gas forklifts from Linde are perfectly suited to outdoor tasks. They will keep working even when faced with extreme conditions such as wind or bad weather, dust, dirt or difficult and uneven terrain.
The tried-and-tested operating concept, comprising dual pedal control and Linde Load Control, ensures that the gas forklifts from Linde are intuitive and responsive to handle. The dual pedal control works by using a hydrostatic drive, which transmits power directly from the truck's engine to its drive wheels and lifting hydraulic system. This facilitates smooth start-up, swift changes of direction and precise load handling. At the same time, Linde Load Control allows the operator to operate all the relevant mast functions with ease, via two joysticks integrated in the armrests. The operating elements have been positioned to minimise arm movements and prevent fatigue.
Depending on the model, the gas forklifts may be operated using either propellant gas (LPG) or natural gas (CNG). In the case of gas forklifts with propellant gas, customers can choose to use either standard commercially available gas cylinders, which can be connected to the truck, or a built-in tank, which can be filled from a pump. If a truck is only to be used sporadically, then the variant with gas cylinder is the optimum solution. If the company owns a sizeable gas forklift fleet and has its own fuelling infrastructure on site, then the trucks with built-in tanks are usually the most economical option. The fuel gauge, which works using ultrasound, enables operators of either variant to see exactly when they need to change the cylinder or visit the pump.
Read More
Gas-powered high performers for indoor and outdoor tasks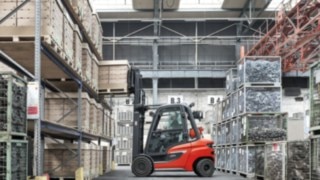 Linde gas forklifts: high performers, inside and out
Linde has been setting standards for the performance and efficiency of gas-driven forklifts for many years now. With a lifting capacity of 1.4 to 8 tonnes, these high performers are at home wherever performance and versatility are required: in the logistics centre for goods dispatch, in a construction company warehouse or in wholesale goods handling. Gas forklifts combine environmentally friendly, soot-free and low-noise transportation with extreme resilience. Thanks to their powerful drives, they even continue to deliver peak performance when moving heavy loads over long distances.
Features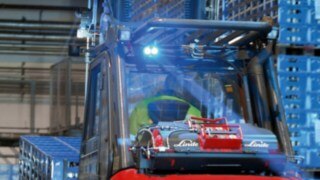 Safety
Numerous safety features ensure that your operators and your loads are protected. These features include optimum visibility in the operator's cab, and a range of standard and optional assistance systems. Extra safety is ensured by a variety of design elements, such as a low centre of gravity and the Linde Protector Frame, in which the overhead safety guard and frame form a completely closed, solid protection zone. This is how Linde gas forklifts ensure the greatest possible safety in any type of workplace – for both the operator and their environment.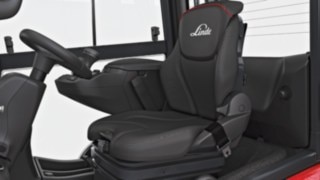 Ergonomics
Linde forklifts stand for operator comfort and ergonomics. The armrests and seat are designed for optimum adaptability to the physical needs of each individual operator. The operator is thereby freed from distractions to work with concentration, even for longer periods. The rubber bearings on the axles, mast and tilt cylinders work in harmony with a comfortable seat, designed to be easy on the back, protecting the operator from all types of vibrations. This means that operators can even complete tasks on uneven terrain with ease.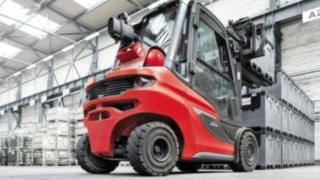 Handling
The Linde Hydrostatic System facilitates precise and sensitive control of drive performance. The maintenance-free hydraulic system allows power of the engine to be transferred to the drive wheels and lifting hydraulic system. The result is that operators can start up smoothly, change direction rapidly and manoeuvre in tight spaces with precision. This guarantees maximum handling performance at the same time as low fuel consumption.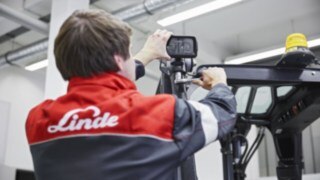 Service
The tough construction and easy-to-service design of Linde gas forklifts result in long maintenance intervals. The combination of an extremely reliable truck and efficient Linde Servicing ensures that downtime is reduced to a minimum. The trucks have been designed to provide easy access to key components for quick and straightforward maintenance tasks.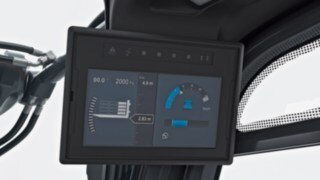 Connectivity
With a data transmission unit fitted as standard, all Linde gas forklifts may be easily integrated into the Linde fleet management system. Digital networking, processing and analysis of data from the trucks make them extremely efficient and safe. These features also serve to optimise maintenance planning, which, in turn, improves availability and enhances productivity. Linde gas forklifts are also equipped with the Linde Engine Protection System (LEPS) as standard. This monitors key engine parameters such as oil pressure, coolant level and temperature. The LEPS warns the operator of any risk of damage to the engine, and indicates when maintenance work is due. In addition to the LEPS, numerous other features help to prevent downtime and associated unnecessary costs.
Overview of the advantages of a gas forklift
Always the perfect fit
Linde offers a special service for customers: every job is different, and that's why different design variants, add-ons and even tailored solutions are available for each gas forklift series. This means that each and every Linde customer can exploit the full performance potential of their truck, equipped to meet their own individual requirements. Linde is also developing needs-based solutions to take into account customer requirements that extend beyond the series options. Linde can even retrofit gas forklifts that are already in service with a range of extras, from heating and AC to integrated side shift or LED work headlamps. In this way, even existing trucks can be equipped for changes in their usage conditions.
FAQ – frequently asked questions about gas forklifts
What is a gas forklift?
A industrial truck powered by its own gas drive is termed a gas forklift. They have a human operator, and are used to transport general cargo.
Who is allowed to operate a gas forklift?
A forklift licence is required to operate a gas forklift. A normal driving licence is not required. Under 18s may only operate forklifts under certain conditions and under supervision.
How much does a gas forklift cost?
The price of a gas forklift varies from model to model. The total price depends on factors such as the load capacity and equipment supplied on the truck.
What equipment options are available for Linde gas forklifts?
Each series features a range of model variants and numerous equipment options. Linde manufactures these in series production.
What are the operating costs associated with a Linde gas forklift?
The model selected and its intended usage largely determine the inspection and maintenance costs to be expected. Linde gas forklifts essentially consume very little fuel, and are very inexpensive to service and maintain. Linde gas forklifts do not require a maintenance-intensive braking system, since the closed oil circuit of the low-wear hydrostatic system automatically slows the truck down when the operator releases the pedals. It is only necessary to change the hydraulic oil after 6000 operating hours. The evaporator for the propellant gas engine only has to be serviced after 3,000 operating hours.
How much fuel does a Linde gas forklift consume?
The fuel consumption of Linde gas forklifts depends on the model and the nature of the usage. With a consumption of between 1.9 and 6.2 kg/h, Linde trucks use the least gas in the sector.
Which exhaust emissions regulations do Linde gas forklifts satisfy?
Exhaust emissions from gas forklifts fall under the German Ordinance on Hazardous Substances. Workplace exposure limits (WEL) are listed in the TRGS 900 (German Technical Rules for Hazardous Substances). The relevant specifications for forklift operation are the WEL for CO of 35 mg/m3, the WEL for propane of 1800 mg/m3 and the WEL for CO2 of 9100 mg/m3. Linde gas forklifts comply with the strict requirements for exhaust emissions for mobile machinery set out in EU Regulation 2016/1628/EU. What does it mean? If warehouse operators ensure compliance with TRGS 900, through the implementation of correct conditions of usage (corresponding ventilation, appropriate number of trucks, suitable intensity of operation, etc.), then Linde gas forklifts may also be used in indoor spaces.
What assistance systems does Linde offer for gas forklifts?
A variety of assistance systems are available for Linde gas forklifts, either as standard or optional equipment. Linde Curve Assist ensures maximum protection against tipping by adjusting the driving speed in proportion to the steering angle. Linde Load Assist reduces forward tilt and lifting speed according to the lifting height. Linde Safety Pilot displays load centre, current load weight, maximum permitted lifting height and other important parameters, and intervenes preventively in critical situations. Linde Motion Detection senses movements behind the forklift and prevents it from reversing. The system thereby protects any people moving in this space. Pedestrians are also protected by Linde Safety Guard – an assistance system which locates trucks to the centimetre, sounds warning signals and automatically reduces the forklift's speed.
What are the advantages of the hydrostatic drive?
The hydrostatic drive is the basis of the precise, responsive power delivery of Linde gas forklifts, which is far superior to that of competitors. It ensures the supply of exactly the right amount of power required for any task, since the closed, maintenance-free hydraulic system transfers power from the engine to the drive wheels and lifting hydraulic system without losses. The axial piston variable displacement pump drives one axial piston motor per drive wheel via an oil flow. This converts the oil flow directly into a rotary motion. Two separate pedals control the direction and flow rate of the oil flow: the right pedal moves the truck forward and the left moves it backward. As a result, the forklift's speed can be adjusted smoothly, and its direction rapidly changed, without the operator having to move their feet. This facilitates precise manoeuvring in the tightest of spaces, smooth start-up and pinpoint accuracy when loading and unloading racks.
What options does Linde offer for digitally networking its gas forklifts?
Linde forklifts are fitted with a data transmission unit as standard. Depending on requirements, key truck data may be transmitted either via the mobile network or via WiFi to a company's own server, or to Linde Material Handling's central cloud server. Linde also offers a Truck Health Management system that reports on truck wear and any potentially developing damage. This reduces the risk of more serious consequences, and ensures consistently high truck availability. Linde gas forklifts can also be integrated into any fleet management system . This allows users to optimise the utilisation of their trucks, to plan servicing intervals more precisely and to manage usage and other processes relating to operators and forklift trucks. Linde guarantees compliance with the highest standards of data security thanks to multiple encryption in the collection, transmission, processing and storage of information.
Lease, purchase, or rent?
If you have found your perfect forklift, get in touch! We will be delighted to advise you about financing your gas forklift – whether you need a high-season helper or a permanent partner: Linde has the right rental, leasing, or purchase solution for every requirement. An overview of all the options is available from the Linde consulting service.