Intralogistics and automation solutions for your sector
The perfect solution for every application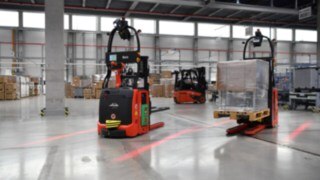 The rapid development of the markets requires large-scale adaptations in intralogistics across all sectors. Solutions for automated intralogistics from Linde Material Handling can help your company to work more safely, efficiently and economically. You will find an overview of the various industries, your requirements, and the Linde solutions that have already been implemented.
Mechanical and plant engineering
In mechanical and plant engineering, the efficiency of your production process will primarily be determined by your internal material flow. It is crucial to ensure that the production lines are seamlessly supplied with materials, so that intralogistics and production form one smooth yet flexible process. Interconnected production environments and automated processes lay the foundation for the smart factory of tomorrow. Our application examples show what has already been achieved with Linde solutions.
Heidelberger Druckmaschinen
Production industry
The central strategic mission of many companies in the production industry today is to increase their own competitiveness and capture new market share. The prerequisites for this are stable production and distribution processes that can provide materials at any time according to need. Many companies are already using automated or part-automated processes to get the most out of their operations. Our application examples demonstrate how Linde solutions can help you to do this.
Automotive
More customised, smarter, more sustainable: car manufacturing is evolving more rapidly than most others at the moment. In order to meet these requirements, the manufacturers' highly efficient production processes need to be made even more flexible. The optimisation of the internal materials flows via automation and digitisation are crucial success factors in achieving this. Success stories from our customers in the automotive industry demonstrate how Linde solutions support production workflows through automation while lowering costs at the same time.
Chemicals industry
The chemicals industry has always placed particular demands on intralogistics. Fast, seamless processes and maximum safety for people and machines go hand in hand in internal material flows. Explosion-proof trucks and highly developed automation solutions are the fundamental building blocks of a trouble-free and low-risk production environment. Our success stories show how Linde's solutions optimally support chemicals manufacturers' processes.
Electrical industry
The electrical industry is one of the world's largest yet most innovative industries. As a component supplier, it is an essential cog in the global supply chains of the manufacturing sector. In order to rise to this challenge, the companies generally rely on a complex network of optimally organised logistics centres. Digitisation and automated processes provide a multitude of possibilities when it comes to increasing efficiency. The Linde solutions in the following application examples provide impressive evidence of this.
Fagerhult
Sector: Electrical industry
Task: Optimise the internal goods flow and reduce the number of manual transport journeys in the warehouse and production environment
The Linde solution: Implement and commission two automated Linde L-MATIC pallet stackers for transport routes between assembly and finished goods warehouse
Retail
With annual turnovers in the multi-billion range, retail is one of the mainstays of the economy. Online trade and increasingly individual customer requirements are creating more and more challenges for companies. High speed and smooth-running processes are required to meet the increasing demands being placed on intralogistics. Retailers are increasingly mastering the high complexity if their internal material flows using innovation strategies that rely on a clever mixture of networking, automation and digitalisation. In our user examples, you will find out which Linde solutions can help you to tackle these challenges.
More on intralogistics and automation