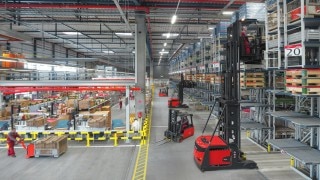 Intralogistics Live is a series of webinars hosted by us featuring the hot topics in warehouse management - from AI to automation, digitisation to data, and from skills to sustainability.
Each webinar, which lasts around 45 minutes, features our own specialists, industry experts and figureheads and those on the frontline leading intralogistics operations.
The Intralogistics Live session is chaired by former national BBC News presenter Clarence Mitchell.
You can either join the free webinars live or watch the recordings which are uploaded here after each debate.
The critical role of intralogistics in an uncertain world
The supply chain has certainly had its fair share of challenges to contend with over the last two years - the pandemic, labour shortages and Brexit, and in recent months rising energy prices and the conflict in Ukraine. In doing so it's catapulted logistics to the top of the board agenda and is one of the most written about business topics in the media.

Whilst much of the focus and talk has been on the transportation challenge with the impact on driver numbers in the haulage sector, the clogging up of ports and now rising costs of fuel affecting road, air, ocean and rail freight providers, it's important not to lose sight of the role that highly efficient warehousing operations play in responding to the uncertain trading environment that continues unabated.

This webinar puts the spotlight on intralogistics and its critical role in making supply chains more resilient to the prospect of increased global volatility created by climate change, pandemics and geopolitical events.