Technical & safety services
Guaranteed to be on the safe side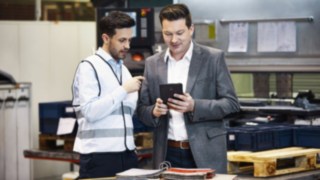 As well as guaranteeing smooth operation, in many cases the safety of industrial trucks is also a legal obligation. The relevant requirements are constantly changing. Linde Material Handling keeps track of it all and promptly performs the prescribed checks for you. For example, these include the checks in accordance with FEM 4.004, which are required in Europe, rack checks, and battery and charger checks. In addition, in many locations, Linde offers a tyre service, advises on optimal energy consumption, and handles the value-preserving cleaning of forklift trucks and warehouse handling equipment.
Thorough Examinations
The Thorough Examination is a legal safety inspection for industrial lift trucks, similar in many respects to the MOT for road vehicles/cars.The examination is mandatory by law and ensures that the mechanical parts of the fork truck are regularly inspected to keep the fork truck safe to use when operated to manufacturers recommendations.The Linde examination covers all parts of the industrial lift truck including attachments and accessories, and ensures that any safety related defects identified at the Thorough Examination are quickly and effectively communicated to you, for action to be taken.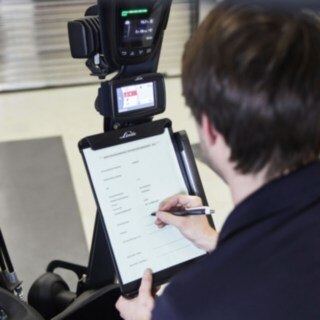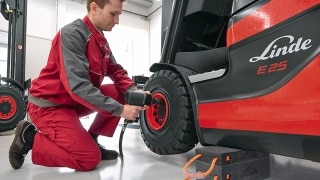 Always ready for operation with the tyre service
Fully functioning tyres are not just a legal requirement – they also ensure the efficient and safe handling of the forklift. The Linde tyre service performs necessary tyre changes, keeping downtimes to a minimum. The use of a replacement rim means that the tyre is quickly installed and we are happy to dispose of old tyres upon request.
Checked batteries last longer
Did you know that the battery accounts for around a third of the overall costs of an electric forklift truck? Just as important is a fully functioning and, above all, durable battery. Only then can high costs be avoided. Insufficient maintenance and cleaning can destroy the battery, reduce driving times, and accelerate discharging. Time-consuming interim charging then becomes unavoidable. The Linde battery service detects defects at an early stage, extends the service life of batteries, minimises downtimes, and prevents expensive repairs.
Everyday assistance with the battery service board
Aside from the necessary checks, forklift operators can also make a contribution to the preservation of the batteries on a daily basis. The Linde battery service board provides protection and assistance during the daily charging and checking of lead-acid batteries. The board ensures that the necessary maintenance accessories, such as safety goggles, gloves, and eye washes, are available at a central location. Furthermore, it also provides instructions on how to charge lead-acid batteries in twelve languages. The service board therefore improves safety in the workplace and speeds up care and maintenance work on the battery.
For the service board contact your dealer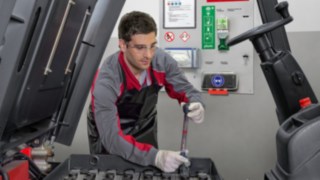 Clean lasts longer
Companies often seem to view the cleaning of forklift trucks and warehouse handling equipment as an imposition, so it is generally neglected. Employees either don't have time or operators are reluctant to pay for professional cleaning. However, this is where savings are made at the wrong end. A lack of cleaning results in high losses in value. Ultimately, an attractive appearance is an incentive for employees to handle equipment with care. Contamination also increases wear.
Linde offers regular professional forklift truck cleaning at many locations. This relieves companies and their employees of this tedious obligation, yet the forklift trucks are always clean and shiny.