Whenever productivity and robustness are called for, a diesel forklift truck from Linde Material Handling is just the ticket. Load capacity from 1.4 to 18 tonnes: Diesel forklift trucks can easily transport enormous loads in continuous operation, even under the harshest conditions. What's more, all diesel models from Linde offer maximum handling performance with minimum fuel consumption. This is what makes these trucks an indispensable aid for outdoor applications.
When it comes to efficiency and performance, Linde has been consistently setting new benchmarks for many years. The hydrostatic drive, together with dual pedal control and outstanding ergonomics, allow for precise, rapid, and economical manoeuvring in any situation. With Linde Load Control, the operator can simply and precisely control the diesel forklift truck's working and auxiliary hydraulics using two joysticks which are built into the armrests. Where maximum power is required, Linde also has heavy-duty models of diesel forklifts available: Heavy diesel trucks can transport up to 18 tonnes quickly, safely, economically, and with absolute precision. This gives them unrivalled handling performance in comparison to competitors.
From agile assistants in a beverage warehouse to powerhouses in the timber industry: Linde diesel forklift trucks are suitable both for intensive 24-hour continuous operation and for occasional short-term use. This means that users can benefit from maximum flexibility when it comes to operational and process planning. The particularly robust construction of the Linde diesel forklift trucks means that the forklift operator is protected in every situation, whilst still benefiting from optimal visibility. A host of mechanical and electrical systems further increase safety. Thanks to their efficient fuel consumption, Linde diesel forklift trucks have remained the most environmentally friendly and lowest-emission trucks on the market. In certain scenarios, they can even be used indoors.
Read More
Agile All-Rounders with a Diesel Engine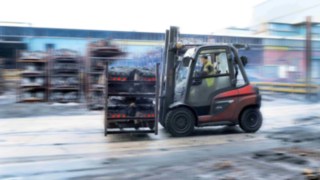 Linde diesel forklift trucks: powerful and long-lasting
Whether it's in the metal industry, wholesale, or goods transport in outdoor warehouses, whenever things get tough in the open air, Linde diesel forklift trucks are in their element. This is largely thanks to the robustness of their powerful diesel engine, which can tolerate all extremes of heat and cold. Diesel forklift trucks can even put in a first-class performance in wet, muddy, or extremely dusty environments. These robust trucks effortlessly conquer steep gradients, and even perform exceptionally when heavy loads need to be repeatedly transported over long distances. Thanks to their large ground clearance, even uneven terrain can't stop them in their tracks.
Features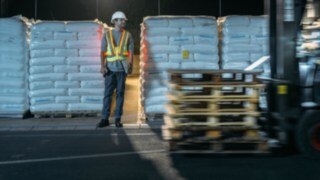 Safety
When it comes to the safety of the operator, their load, and the environment, Linde forklifts leave nothing to chance. To start with, the trucks are equipped with numerous protection systems as standard. In addition to this, their low centre of gravity ensures good stability when cornering. The cab roof and frame form a spacious, enclosed protection zone. The operator's cab with all-round visibility and a range of assistance systems provide additional protection. For example, Linde Curve Assist prevents the truck moving at an excessive speed around bends.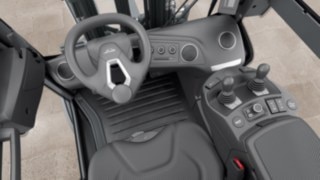 Ergonomics
Linde forklifts are synonymous with ultimate operating comfort. Operators can adjust the armrests and seat to suit their body size and shape, allowing them to maintain concentration and work without disruption over long periods. Seats designed to be easy on the back and rubber bearings on the axles, mast, and tilt cylinders reduce the effect of vibrations, even on uneven terrain. The large operator's cab offers plenty of legroom. All display systems and switches are within arm's reach. The ergonomic operating concept with dual pedal control and Linde Load Control prevents fatigue. The operator can control all mast and lifting movements precisely and intuitively using only their fingers, while their arm relaxes on the armrest.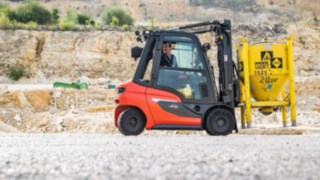 Handling
Smooth start-up, rapid direction changes, and accurate manoeuvring in the smallest of spaces: Thanks to the hydrostatic drive, the operator always has just the right amount of power available. The maintenance-free hydraulic system of the Linde IC trucks transfers the power of the engine to the drive wheels and lifting hydraulic system without losses. In conjunction with Linde Load Control, the dual pedal control and hydrostatic system ensure that the operator can perform every driving and lifting motion quickly and precisely. This reduces consumption and keeps service costs low. The result? Maximum handling performance with minimum downtime.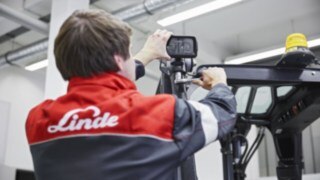 Servicing
When it comes to servicing, the IC trucks from Linde have much to recommend them: Easy access to important components allows service technicians to perform their work quickly, thus reducing the inspection costs. Moreover, Linde diesel forklift trucks boast exceptionally long maintenance intervals. This is possible thanks to their numerous maintenance-free or low-maintenance assemblies, including the drive axle, the tilt cylinder bearings, and the hydrostatic drive. The new high-performance filters provide additional protection against wear and tear.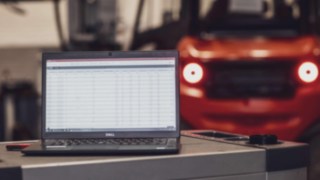 Connectivity
Linde diesel forklift trucks collect a host of operating data, which is then transmitted to the fleet management software 'connect' via mobile network or WiFi. In this way, digital error codes can allow remote diagnostics to be performed on the forklift. With connect, users can perform optimal planning of maintenance and repairs, and efficiently calculate costs. In future, it will be possible to install software updates and additional functions 'over the air'. This improves the performance and functionality of the trucks and keeps them up-to-date at all times. To this end, Linde uses one of the most secure cloud infrastructures on the market. As a result, the diesel forklift trucks can be safely integrated into software systems whilst ensuring that all data is protected.
Overview of the advantages of a diesel forklift truck
Custom-built
Every application is different. That's why Linde offers a special service whereby various construction variants, add-ons, and even tailored solutions are available for each diesel forklift truck product line. As a result, every forklift is ideally equipped to meet the specific requirements of Linde customers, who can make full use of their truck's performance potential. Linde also develops needs-based solutions to take into account customer requirements that extend beyond the series options. A special extra service: Linde can even retrofit existing trucks with a range of extras, from heating and AC to integrated side shifters or LED work headlamps. In this way, entire fleets can be retrofitted in line with changes in their usage conditions.
Frequently asked questions about diesel forklift trucks
What is a diesel forklift truck?
A diesel forklift truck is a type of industrial truck with an on-board diesel engine. Diesel forklift trucks are only operated by a single person, and are used to transport general cargo.
Who is allowed to operate a diesel forklift truck?
In order to operate a diesel forklift truck, you do not require a normal driving license, but you do need a forklift license. Under 18s may only operate forklifts under certain conditions and under supervision.
How much does a diesel forklift truck cost?
The cost of a diesel forklift truck varies from model to model, so it is not possible to give a rough figure. The price depends on factors such as the load capacity and equipment provided on the truck.
What equipment options are available for Linde diesel forklift trucks?
Linde offers different model variants and a wide range of equipment options for each of its product lines, all of which are manufactured in series production.
What are the operating costs associated with a Linde diesel forklift truck?
The operating and maintenance costs for a diesel forklift truck vary depending on the model and usage scenario. The advantage of Linde diesel forklift trucks is that they consume relatively little fuel and do not require extensive servicing. For example, thanks to the nigh-on wear-free Linde hydrostatic system, Linde diesel forklift trucks do not require a maintenance-intensive braking system. The closed oil circuit automatically slows the truck down once the pedals are released. The hydraulic oil required only needs to be changed every 6000 operating hours. As demonstrated by a TÜV NORD-certified work cycle, it is possible to make an annual saving of almost EUR 2500 on overall procurement, energy, maintenance, and staff costs compared to purchasing and operating the next-best competitor with the same load capacity.
How much fuel do Linde diesel forklift trucks use?
The fuel consumption of Linde diesel forklift trucks varies depending on the model and usage scenario. Compared to their competitors, Linde trucks offer by far the best performance/fuel-efficiency ratio.
What emissions standard do Linde diesel forklift trucks meet?
Linde diesel forklift trucks easily meet the statutory emission ceilings set out in the Euro 5 emissions standard. This is thanks to their highly efficient industrial engines, which in combination with the Linde hydrostatic drive ensure a consistently optimal rpm range. Both fuel consumption and emissions are reduced as a result.
What assistance systems are available for Linde diesel forklift trucks?
Linde offers a range of series-specific and optional assistance systems for its diesel forklift trucks: Linde Curve Assist adjusts the driving speed in proportion to the steering angle, thus guaranteeing optimal stability. Linde Load Assist reduces forward tilt and lifting speed according to the lifting height. Linde Safety Pilot displays important parameters such as the load centre, current load weight, and the resulting maximum permitted lifting height. Linde Motion Detection detects movement behind the forklift when moving backwards or reversing. Linde Safety Guard protects pedestrians by establishing – with centimetre accuracy – the exact location of trucks, triggering warning signals, and automatically reducing speed.
How does the hydrostatic drive work?
It is the hydrostatic drive that is to thank for the precise, responsive power delivery of Linde diesel forklift trucks, which is far superior to that of competitors. The closed and maintenance-free hydraulic system transfers the power of the industrial engine to the drive wheels and lifting hydraulic system without any losses, meaning that the exact amount of power required is provided in every work situation. The axial piston variable displacement pump drives one axial piston motor per drive wheel via an oil flow. This converts the oil flow directly into a rotary motion. The direction and flow rate of the oil flow is controlled by two separate pedals: The right pedal moves the forklift truck forwards, the left pedal moves it backwards. This means the driving speed of the diesel forklift truck can be constantly controlled and the direction of travel can be quickly reversed without having to move the feet. This guarantees responsive manoeuvring in the tightest of spaces, smooth start-up, and precise loading and unloading of racks.
What digital networking options are available for Linde diesel forklift trucks?
The diesel forklift trucks are fitted with a data transmission unit as standard. Depending on the requirements, relevant truck data can be transmitted to your servers via mobile network, or WiFi, or to Linde Material Handling's central cloud servers. Truck Health Management reports any wear or damage to the truck. This reduces the risk of serious consequential damage and ensures the trucks have consistently high availability. The trucks can be integrated into any fleet management system. This allows users to optimize the utilization of their trucks, to plan servicing intervals more effectively, and to manage usage and other processes relating to operators and forklift trucks. Linde Material Handling guarantees compliance with the highest data protection standards thanks to multiple encryption in the collection, transmission, processing, and storage of information.
Hire, Lease, or Buy?
If you have found the perfect diesel forklift truck, we would be happy to advise you on your finance options. Whether you're looking for a temporary helper during order volume peaks or a core truck for continuous operation, Linde offers the right hire, lease, or purchase package for every requirement. You can obtain a comprehensive overview of all the options by contacting the Linde consulting service.
Success stories – diesel forklift trucks in use