Reach Trucks
Fast handling in narrow high rack warehouses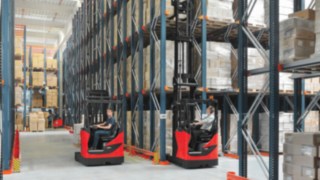 Flexible, efficient and safe in the warehouse
Load handling in warehouses requires numerous movements and manoeuvring, often in confined spaces and at height. Linde reach trucks are tailor-made for these conditions and ensure extremely efficient operation in high rack warehouses. Besides their outstanding manoeuvrability, special display and assistance systems support the operator to allow safe and quick handling. For example, they automatically adjust the lift and travel speed, or precisely compensate for mast oscillation in certain models.
The design of the operator's cab and the masts provides optimum all-round visibility. In addition, the operator's cab and control elements are developed based on the driver's individual ergonomic requirements. For example, the Linde Load Control integrated into the armrest and a vibration-free operator's cab make fatigue-free working possible. Additional equipment, such as a panoramic armoured glass roof, increases operator safety in narrow rack aisles and when handling loads at height.
All models are extremely cost-effective to service thanks to low-maintenance components and long maintenance intervals. Companies can choose the right truck for their requirements from a wide product range. Depending on the model, mast heights can reach up to about 14 metres with lifting capacity of up to 2.5 tons.
Assistance systems are the key
In narrow warehouses with high racks, the view and space to manoeuvre are often restricted. Linde reach trucks help the operator with appropriate displays and assistance systems. This makes load handling safer and more efficient. For example, the Linde Curve Assist driver assistance system automatically adjusts the speed around bends. Displays showing the load weight and lift height provide the operator with the necessary information to transport and stack loads safely while still ensuring fast work cycles. Automatic lifting actions, such as end position damping or a height-dependent travel speed, also improve safety and efficiency. This means that Linde reach trucks can manoeuvre safely and quickly, even in confined spaces and handling conditions in warehouses.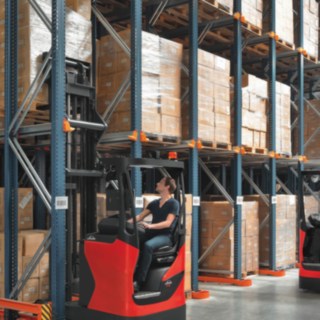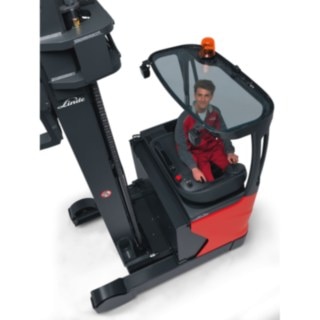 More visibility for better safety
An unimpeded view of loads and the surrounding area are a fundamental requirement for safe truck operation. To make sure that this is met even in confined spaces, Linde designed the reach trucks for optimum visibility and fitted them with appropriate equipment. For example, a new mast concept enabled the field of vision to be doubled for R14 - R17 X product line trucks. An optional armoured glass roof provides a view through the roof of the cabin, while also ensuring maximum safety. For handling situations where visibility is very poor, there is also the option of using a mast camera.
Comfortable operation
An ergonomic work station makes it easier for forklift operators to perform their daily duties and increases their efficiency, as they tire much less quickly. Linde trucks are therefore designed with a focus on ergonomic requirements, starting with the lowest possible entry point through to a vibration-free chassis and an air-cushioned operator's seat, which adjusts to the driver's weight (R14 - R20 G product line). Linde engineers were also able to further optimise the available space in the truck with an innovative truck design. In addition, many of the control elements and the seat can be adapted to the operator's individual needs and requirements.
Fast work cycles and efficient driving manoeuvres
Seemingly minor time savings have a big impact, especially when performing repetitive processes. This is the reason why Linde reach trucks are equipped with such features as adjustable steering. This allows the steering resistance to be tailored to the operator's habits and situational requirements. Dual-pedal control enables a rapid change of direction without having to shift your feet. Safety functions, such as automatic speed adjustment around bends or assistance functions, such as side shifter centring or horizontal fork adjustment, also help the operator achieve fast work cycles.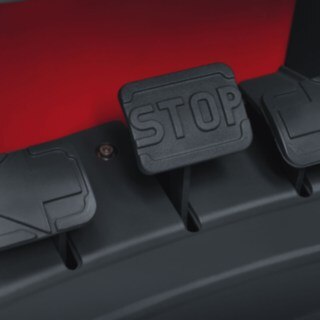 Flying high in the warehouse
Logistics areas are expensive. This explains the growing trend for increasingly high racks in warehouses. It has also resulted in increased demand for trucks capable of lifting loads higher.
In the past decade, the number of reach trucks with mast heights over eight metres has increased considerably and even heights of 13 metres are no longer a rarity. The rise in lifting heights also increases the specific requirements of forklift drivers, who have to deal with greater mast oscillation and restricted vision. To counter this trend and the associated challenges for the operator and reach truck, Linde has developed features such as dynamic mast control to compensate for mast oscillation, introduced numerous measures to optimise visibility, and incorporated load displays.
5 times more output
More efficient
Numerous assistance systems help drivers handle loads quickly, even at height.
Safer
Drivers have an optimal panoramic view thanks to components that optimise visibility. Additional equipment, such as a shoulder guard reduces the risk of accidents in confined spaces.
More comfortable
All cabin components can be individually adjusted to the operator. A vibration-free operator's work station ensures fatigue-free working.
More cost-effective
Customised solutions for special work requirements ensure that trucks are operated very cost-effectively in specific areas such as handling of bulky loads.
More reliable
Service intervals of 1,000 operating hours mean that trucks operate reliably. Low-maintenance and easily accessible components facilitate service and reduce downtimes.
Trucks for every requirement
Every sector has its special requirements, while truck requirements also differ from one company to another. That's why we have reach trucks for specific tasks, such as transporting bulky loads or stacking pallets. Numerous product options, which provide the necessary load capacity and lifting heights, are also available within the reach truck series. In addition, companies can choose from an extensive range of additional equipment, such as a design for use in refrigerated warehouses, a draft shield door and seat heating for outdoor use, or 360° steering for manoeuvring in the tightest of spaces.