Forklift truck
The number one choice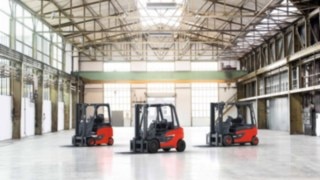 The forklift truck is the number one choice for intralogistics. Both versatile and powerful, the industrial truck is ideal for transporting and handling goods in warehouses, production sites and outdoor areas.
Linde Material Handling has been successfully providing the perfect forklift truck for every industry and application for over 60 years. The range of trucks Linde offers is unparalleled, with a selection that comprises 77 series with up to 382 model variants and over 10,000 equipment options. The guiding principles behind all of Linde's products are productivity, safety and ergonomics.
Forklift truck: Electric forklift vs IC truck
Electric forklift or IC truck? That is the key question for every warehouse and production facility. Above all, it is the application area that determines the choice of forklift truck: Electric forklift trucks are ideal for use inside the warehouse as they produce zero emissions or engine noise. Internal combustion forklift trucks are often used in outdoor areas as it is easier to supply energy in the form of gas or diesel in these areas. IC trucks are extremely robust and can therefore withstand even the most severe weather conditions.
Linde electric forklift trucks
Linde offers an extensive range of electric forklift trucks, which can handle loads of between 1000 and 8000 kilos. Their strength lies particularly in their precision and agility, providing the utmost handling performance. Linde has developed powerful drive technology with highly responsive traction control for lifting and transporting loads quickly and easily. All the models of electric forklift truck from Linde are user-friendly and come with a maintenance-free compact axle, allowing the operator to perform millimetre-precise manoeuvres.
Click here to find out more about Linde electric forklift trucks.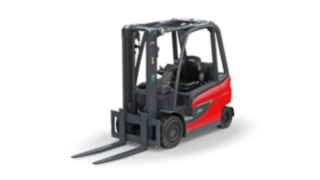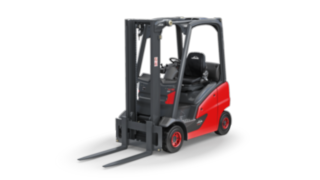 Linde IC trucks
With its internal combustion forklift truck, Linde has been setting the standard for productivity and efficiency for many years. The portfolio of IC trucks covers a load bearing capacity of 1.4 to 18 tons. The combination of hydrostatic drive, dual-pedal control and Linde Load Control enables the operator to perform every lift and manoeuvre with the utmost precision and speed. The efficient power transmission and intelligent control ensure that the IC trucks always have plenty of power available.
Click here to find out more about Linde IC trucks.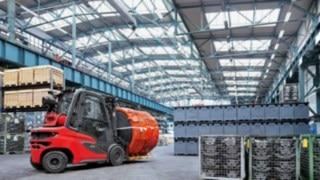 H20–H35: Perfection down to the last detail
The H20–H35 diesel and gas forklift truck is the first of Linde's new generation of forklift trucks which is setting new standards for performance, ergonomics, safety and connectivity. This forklift truck provides the best solution to the material flow challenges of today and tomorrow. The tried-and-tested hydrostatic drive system forms the technical basis for the trucks, transferring the power of the industrial motor to the drive wheels and lifting hydraulic system with zero loss. The robust design also ensures a long service life with low maintenance requirements.
Factory-fitted forklift truck: New forklift trucks for purchase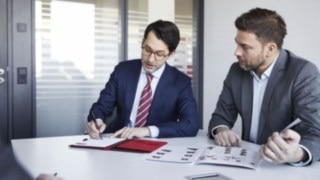 Those looking to acquire a new Linde forklift truck will receive a financing option tailored to their individual requirements. This ensures the perfect ratio of costs to benefits. Buying new is not the only solution: Linde also offers leasing, rental, hire purchase and short-term rental options.
Find out more about the financing options for new forklifts.
Forklift truck with 'life experience': Approved used trucks
Start-ups in particular, as well as companies in their growth phase or with varying operating times for forklift trucks are always looking for opportunities to meet their specific requirements both reliably and economically. Here, Linde's approved, systematically refurbished used forklifts offer a high-quality and cost-effective alternative. The seamless truck and service history, and careful inspection when the forklift truck is returned, mean that Linde only selects the very best equipment for its programme of approved used trucks.
Find out more about used forklifts from Linde.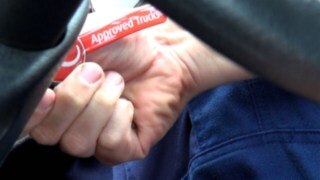 Forklift truck on loan: Linde rental trucks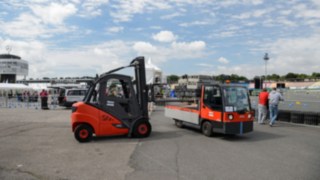 In many situations, renting a forklift truck can be the more cost-effective alternative to buying a new forklift – for example, for seasonal order peaks or in preparation for large events. The Linde rental service is not just about quick delivery of the forklifts and equipment you urgently require – you will also be provided with all the advice and flexibility you need. This way, companies can take advantage of our flexible solutions to help them out during busy periods.
Find out more about rental forklifts from Linde.
A Team of forklift trucks: Linde fleet management
Think of how much you can do with one forklift truck – and now imagine what you can achieve with a whole fleet. However, cost-effective fleet management is essential. This involves identifying fault-prone trucks, for example, or trucks that are overloaded or not working at full capacity. With the Linde connect fleet management system, Linde provides precisely the information the fleet operators need for efficient deployment of their forklift trucks, regardless of location and fleet size, whether new or existing forklift trucks or other manufacturers' products.
Find out more about fleet management from Linde.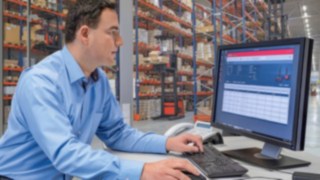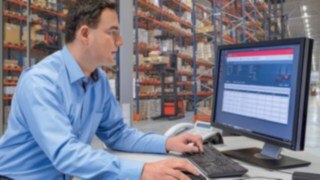 How our forklift trucks work
Strengthening your intralogistics
The forklift truck is a true all-rounder when it comes to internal goods handling and transport. Thanks to their special features and various equipment options, Linde's IC and electric trucks have been providing a reliable service to a wide range of industries for several decades. Linde is dedicated to this role and finds the right truck and fleet solution for every new logistics application.
Forklift truck design
Forklift truck drives
When buying a forklift truck, it is not just the purchase price that plays an important role but also the operating costs and therefore the energy costs. Alongside combustion engines and lead-acid batteries, lithium-ion batteries and fuel cells are increasingly being mentioned among the preferred solutions. Linde Material Handling offers cutting-edge technology and services for every energy system.
With four energy systems, Linde has the perfect solution for every logistics requirement:
A brief history of Linde forklift trucks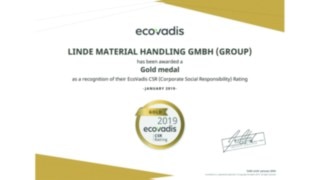 2019: New generation of IC trucks
With the high-performance, agile and networked IC trucks in the1202 series,Linde sets new industry standards for counterbalanced trucks.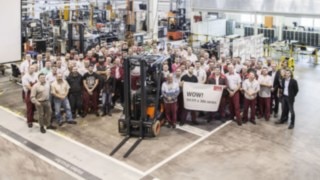 2017: Electric forklift truck number 111,111
Linde celebrates the production of its 111,111th electric forklift truck from the 386 series. The E12 to E20 trucks were launched in 2006.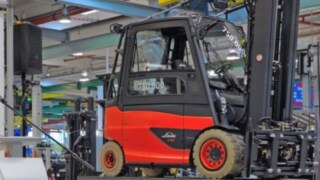 2014: 750,000th forklift truck and first WoMH
Linde celebrates the production of its 750,000th forklift truck. The first World of Material Handling (WoMH) attracts more than 6000 professional visitors.
2009: Forklift truck with hybrid drive and fuel cells
Linde presents its first prototypes with alternative drives. Since 2010, Linde has become the first manufacturer of industrial trucks in Europe offering off-the-shelf fuel cell powered trucks.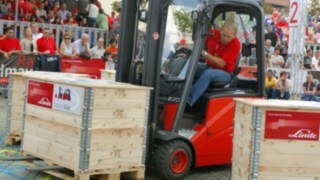 2005: Championship for forklift operators
The inaugural Forklift Cup takes place. More than 1500 operators participate in the first German championship for forklift operators.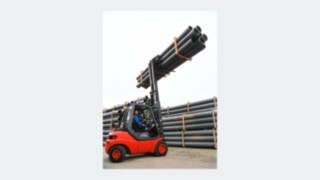 1985: The King of forklift trucks
The 351 series revolutionises the world of forklift trucks. The diesel forklift truck sets new standards in design and handling performance in the 'premier class' of trucks with a load capacity of 2 to 3.5 tonnes.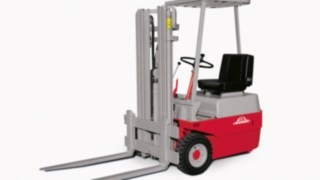 1971: The first ever electric forklift truck from Linde
The first ever electric forklift truck from Linde celebrates its world première at the Hanover Fair in 1971.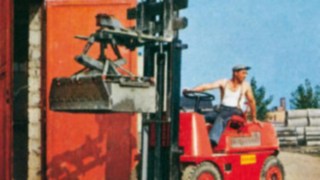 1959: The first Linde forklift truck
The success story behind Linde's forklift trucks begins in 1959: The Hubtrac is the first forklift truck with hydrostatic transmission.