Professionals
Take the next step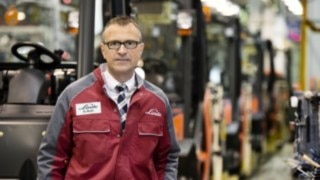 Who are we looking for?
At Linde, we are continually looking for the best talent available.
Candidates will not only be hardworking and proactive to produce high quality work, but also innovative and flexible to add value to the company through new ideas and streamlining processes.
Our careers span a variety of disciplines including Field Sales Engineering, Finance, Human Resources, Business Analytics, Sales, Marketing, Purchasing and more.
All of our employees will have access to extensive training when they enter the business, to allow them to not only perform well, but also to learn and grow within the role.
We are part of a much wider KION family – there are opportunities throughout KION, as well as opportunities abroad.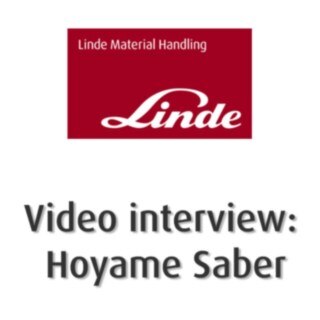 Hoyame Saber – Director, Business Solutions
Hoyame started as Business Solutions Director with Linde in January 2020. In this role, she and her team ensure high quality support for sales and project management. Hoyame has also been nominated for the KION Female Mentoring Programme.
Click the video to hear more about Hoyame and what she enjoys about her role.
Transcript of Hoyame's video:
Introduction
I started in January 2020 ahead of the company Sales Conference. Just a few weeks later, we faced the first lockdown. So, when I started, despite the pandemic situation, I was very happy because I had a very strong induction plan and training to embrace the Linde culture and values.
What is your role at Linde?
I am Business Solutions Director. Business Solutions was created when I joined and the biggest challenge for me was to develop and create additional value to the forklift truck business. Thanks to our wonderful portfolio, with energy solutions, our own fleet management system called Connect, our digital solutions and our unique safety solution, I was able to create this additional value.
How has your role evolved since joining Linde?
Very recently, I have been appointed as Head of Solutions Design and Realisation for Intralogistics at KION. I am keeping my Business Solutions responsibilities, and, with my new intralogistics team, we are offering and implementing our projects for VNA, storage and automation. We are ensuring high quality support for sales and project management.
What do you enjoy about working for Linde?
What I enjoy the most at Linde is that it's really easy to interact with people and build your own network. I really feel that at Linde we are a real family.
Also, what is really important to me is that we have full transparency on nominations, on promotions and it is quite inspiring to see how you can build your own career path within the Group.
Also, I've been nominated for the KION Female Mentoring Programme. I feel so glad because I know that only a few within the Group are selected for this. My mentor is based in China and all my colleagues are from all over the world. This international environment is giving me the opportunity to understand a bit more about our organisation and how I can also move into this organisation.
Why should others join Linde?
If you are looking for a company who cares about you as an individual; if you are looking for a company that recognises your work when you reach your goals; if you are looking for high standards and qualities; then Linde is the company you are searching for.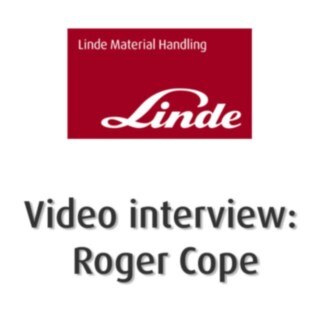 Roger Cope - Workshop Engineer
Roger joined Linde as a Workshop Engineer in 2021. He has liked it so much that he's recommended a friend to come and work at Linde too!
Click the video to hear more about Roger and his role.
Transcript of Roger's video:
Introduction
My name's Roger Cope and I'm an engineer at Linde.
Where did you start your career?
I started my career after I left school in 1988 as a panel beater and I've progressed to become a senior HA panel beater. In that time, I've worked on several prestigious cars, doing various repairs, and I've also diversified into doing restoration work – which I've thoroughly enjoyed.
When did you join Linde?
I joined Linde on the 25th January 2021. I can remember the date quite vividly. It was snowing, it was quite deep, and all the entrances were blocked. So, everybody in the Workshop chipped in and got it all cleaned up. I got to know a few people there and then and I've thoroughly enjoyed it ever since.
What makes Linde stand out from other employers?
The Health and Safety aspects are the best – it's fantastic. I've never known a place like it. The people are so helpful. If I've had a problem or anything, people just jump onboard and help you all they can.
Recommend a Friend Scheme
I like it here so much; I've also recommended a friend (who I worked with many years ago). Hopefully, he starts in the middle of March.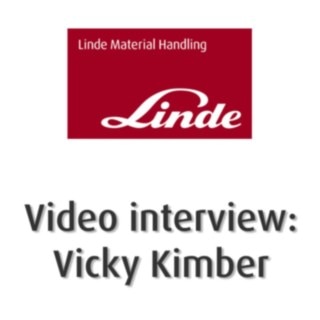 Vicky Kimber - Workshop Manager, Region South Basingstoke
Vicky has been with Linde for over 15 years, now working as the Workshop Manager for Region South Basingstoke.
Click the video to hear more about what attracted Vicky to Linde and what excites her about her role.
Transcript of Vicky's video:
Introduction
Hi, I'm Vicky Kimber. I'm the Workshop Manager for Region South Basingstoke for Linde Material Handling. I've been in the role for about 7 months but have been with the company for 15 years doing various different roles.
What do you enjoy about your role?
The reason that I love this role is the different challenges it brings. No one day is the same. Everything is different. There are small challenges, big challenges. The team around me are fantastic as well and engaging with the engineering side of it is really something that I love.
What attracted you to Linde?
The engineering side of it for me is one of the things that attracted me to Linde. I grew up with a grandad and a dad that were engineers. They were always tinkering around, had workshops with laves and all sorts. So, it's a natural progression for me to go this way.
For any women out there, that would want to do this, I would just say – go for it. It's a thrill, it's exciting, but it's also hard work.
What is great about working for Linde?
One of the things that I have loved about working with Linde is the recognition and support you get. I've progress through quite a few different roles here. Each time, being again supported to move to the next. It's been fantastic.
What excites you about your role?
What excites me most about my role is probably the challenges that it brings. Working with an engineering team and the different challenges that brings. Adapting the trucks to what the customer wants, getting them out the door when the customer wants, is quite challenging, but exciting.
What training have you had whilst at Linde?
So, I've seen quite a lot of training, but one of the biggest things that I've personally had for training within Linde is that I was put on a Level 3 ILM Business Management Course a few years back with another group of people from within the business. That supported me in managing people more, in a more efficient way, which has been really helpful.
What innovation is within your role?
One of the biggest things for innovation that I've done recently is about bringing on new talent. So, I work very closely with the Apprenticeship Development Officers (ADOs) and we've been speaking with the local college of technology, BCoT. We currently have two work experience students here at Basingstoke doing some work experience with us during half terms and their days off from college, in the hopes that they can progress on to be an apprentice for us. So, we are hoping that they will both apply to Linde's Engineering Apprenticeship and then come and work for Linde in the future so that we can keep the talent going.
Why should others work for Linde?
I would absolutely recommend people to work here at Linde. The support and progression that you can get here is phenomenal. It's like being a part of a family. Although it's a huge UK-wide company, you think you might get lost in amongst it, but you're always supported and recognised here at Linde.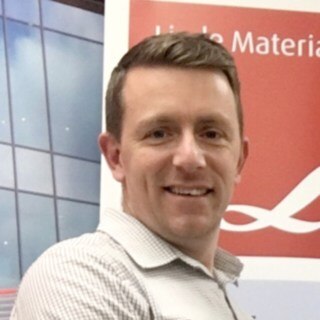 Andy Titterington – Depot Manager
Q What is your role?
A Depot Manager – Linde Northwest – Warrington / Bolton
Q How long have you been with the company?
A This time around 17 Years, I was a Linde apprentice based in our old Preston depot at the tender age of 21. (1998)
I worked at Linde for 4 years and then worked for myself for a short period of time, then back to Linde in 2004.
Q How has your role changed/developed throughout your time with Linde?
A I have worked at many of the locations within Linde Northwest, the company has changed massively in recent times.
We have become more corporate and during this time my career and skill set have changed too.
During these changes Linde NW has gone from strength to strength, we have been through some structural changes recently, these have been very successful.
Whilst things have changed locally and nationally our main focus has always been on the customer, this hasn't changed.
The service we provide to our customers is our highest priority and something I take very personally.
Q What do you enjoy about the company?
A The Team ethos is what it is all about for me, I see it as my job to create a very effective, efficient, and passionate team. The feeling of being valued and appreciated within our team members with pay out tenfold. This leads to a better service to our customers.
Q Why should others join the company?
A Linde MH is the best MHE manufacturer to work for.
A We are innovative, resourceful, and passionate about everything we do. Why would you not want to be a member of the Linde Family?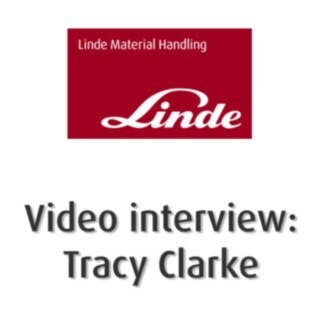 Tracy Clarke - Energy Sales Manager
Tracy joined Linde in 2018 as a Key Accounts Manager before moving into an Energy Sales Manager role.
Click the video to hear what Tracy finds best about her role.
Transcript of Tracy's video.
Introduction
I started at Linde in 2018 and I joined as a Key Account Manager from outside the industry. I had no idea about fork trucks before I joined Linde. I worked as a Key Account Manager for just over a year and then I moved into the Energy Sales Manager role, which is the role that I've got at the minute, which I've had for the last year and a half.
What's the best thing about your role?
The best thing about the role and working with Linde so far has been the people. I've really enjoyed the internal collaboration with all the different teams and departments, as well as the external collaboration with our customers and third parties and being a support mechanism for both. As well as being the voice of the customer. I've enjoyed doing that both in my previous role in Key Accounts, as well as my current role and bringing some attention from a business point of view as to what the market needs, what the customer would like, which obviously allows us to be more innovative in our approach.
What is exciting about your role?
I think two things that really excite me about my role - definitely people. I'm very much a people person. So, I enjoy relationship building and chatting and getting through the day together and that level of collaboration. But also, what I find particularly exciting about my role at the minute is the element of innovation that we have. So, in energy in particular, you're at the forefront of innovation. So, whenever there is something such as a new technology coming in, or even a new way of implementing a different solution, I'm the first person that can get my hands on that in the UK and Ireland. I can then spread the message around to everyone else as well as help to define how we incorporate that approach in with our customers and our internal sales. So, I really love being part of that journey and putting the theory into practice.
Training at Linde
At Linde, I've had the most training that I've had in any other role with any other company. I've had training to do with the products. So, because I came from outside the industry, I didn't have a clue about fork trucks, so I had a lot of in-depth training about trucks, how they work, how they interact with other trucks, what makes our own trucks particularly interesting in comparison to other competition trucks. I've also had an awful lot of sales training as well. So, how to sell particularly to procurement, how to sell within Key Accounts, how to be a successful Key Account Manager. Then I've had really specific training, like for example, this role that I'm in at the minute. It's energy focused, so I've had a lot of in-depth training to become an energy expert over a number of months, that I certainly didn't have the knowledge before. And then I've also joined a mentoring scheme as well, so I have a mentor that I meet with on a monthly basis, and we talk about everything and anything that I want to bring up. There are so many opportunities there for both internal training, but also just general skillset training. How to manage people, how to resolve conflicts, that everyday level of training that I, quite frankly, have had nowhere else, other than Linde.
Why should others join Linde?
What makes Linde so special and why I think it's a really good opportunity to join Linde, is the amount of scope there is to be successful. So, you have so many opportunities within Linde, within KION, within the Group, within different offices, different departments. We are all one big team, so the idea of being able to move across departments, across teams, move upwards, horizontally, whichever way you want to move, the world's your oyster and you will have support in doing that.
So, I think the big reason to join Linde is the amount of opportunities that you have and that fact that you are genuinely supported to be successful.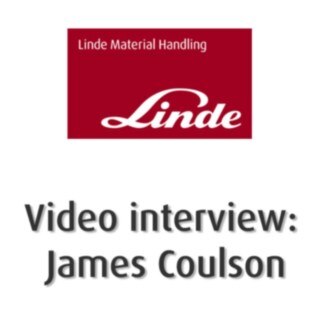 James Coulson - Marketing Executive
James is a Marketing Executive at Linde, studying towards a digital marketing qualification.
Click the video to hear what James enjoys most about working at Linde.
Transcript of James' video:
What do you enjoy most about working at Linde?
I love working at Linde. I've got a great work-life balance. The office I work out of is really near my house.
And a couple of years ago, they decided to help in my development and put me through a digital marketing qualification. It was a two-year course, which is just about at its end now and that has been absolutely amazing. I've learned some fantastic things and I'm really looking forward to putting that into practice once I've finished it in a couple of months' time.
1,000,000 Trucks!
See the care and passion our colleagues in Aschaffenburg, Germany have as they deliver Linde's one millionth Fork Lift Truck!