Logistics Fleet Management
The networked fleet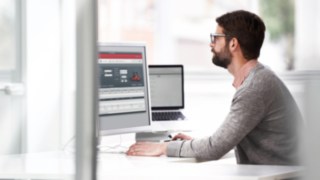 Make your fleet management intelligent
Digitisation is changing the world of intralogistics. Modern logistics devices continuously collect data, which is analysed and can then be used to optimise complex warehouse and transport processes. Networking and advanced sensors even enable the forklift trucks to act autonomously. The result: the fleet and fleet management becoming intelligent, and networking and real-time data access becoming increasingly important.
The Linde connect fleet management system provides precisely the information that you need for efficient fleet management. Whether it is in production or the warehouse, connect networks your forklift trucks and continuously informs you of the current status of the entire fleet.
Your benefits in fleet management
Linde connect:desk software
The connect:desk fleet management system provides clear access to all your fleet data. The software is used to manage forklift truck and operator data and enables effortless compilation of reports.
From forklift truck and operator management to maintenance and assignment planning, right through to monitoring and analysis of all forklift truck data, connect:desk is the centrepiece of your fleet management. The software is intuitive in its operation and it is therefore suitable both for experienced fleet managers and casual users who only require individual functions.
The right infrastructure – transmission technologies
Current software version:
connect:desk 2.7.2
connect:composer 2.3.17
Variable function modules
The requirements for fleet management systems are often very specific: Every business offers a different working environment for the industrial trucks. You can therefore combine the individual function modules of Linde connect to form one system that optimally meets your individual requirements.
Via connect:ac operators control access to their fleet and allow for a safe and simple forklift truck check before every assignment.
connect:dt documents deployment duration, accidents and functional capability of the fleet forklift trucks.
With connect:an fleet managers analyse and monitor the capacity utilisation and performance of their fleet. The module also assesses the status of the battery and detects possible operating errors.
With connect:zi, Linde Safety Guard safety zones with speed adjustments are networked for forklift trucks. The size of zones and maximum speeds can be set via the software and interactive hall layout reports increase transparency throughout your fleet.
connect:desk in detail
Dashboard
The dashboard serves as the communication hub for connect:desk. Fleet managers can use individually adaptable widgets, such as the calendar, forklift truck notifications and accesses, to monitor and inspect their fleet. All messages can be forwarded to them directly by email if necessary.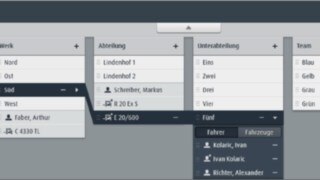 Organisation
In the organisation area, fleet managers can edit the operator, job location, assigned forklift trucks and other information. The hierarchically structured list display offers an overview of the organisational structure and simplifies the assignment and management of access and usage rights.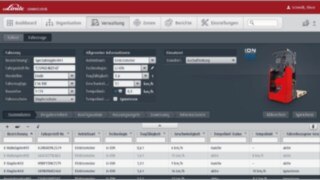 Administration
Tables, detailed views and various input elements enable flexible viewing, maintenance and expansion of large amounts of data. For example, operator licences, training and health checks can be managed with ease.
Zones
In the zones area, fleet managers use their own warehouse or plant plans to plan and configure zone areas and accesses and define automated speed adjustments if necessary. For example, forklift truck speed is controlled in a targeted manner at crossings or in narrow areas, which increases safety.
Login reports
The log book provides an overview of all recorded events for the individual forklift trucks. The pre-op check table lists all pre-op checks carried out for the selected forklift trucks as well as the associated answers from the operators. Interactive diagrams show unusual charging levels and logouts and can be grouped according to operator and forklift truck. This allows fleet managers to see exactly who used which forklift truck and when.
Usage reports
The usage analysis provides an overview of the usage and capacity utilisation of all forklift trucks. The interactive diagram shows how long and for what purpose the operators have used the selected forklift trucks. It also lists shock values, the progression of the battery charge status and the distribution of the zone passages.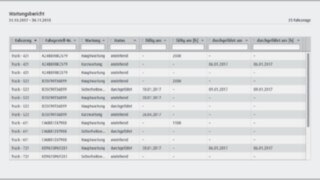 Service reports
The service area lists the service and maintenance dates for all fleet forklift trucks. On this basis, fleet managers can bundle maintenance dates in a targeted manner and reduce costs.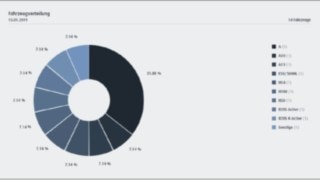 Coordination reports
The coordination category provides data about operators as well as the usage and capacity utilisation of all forklift trucks. The forklift truck distribution provides an overview of the composition of the entire fleet, organised according to manufacturer, forklift truck type and other criteria. The fleet lists all forklift trucks with their most important characteristics. All training carried out and outstanding for the operators can be found under operator training.
Hardware components for smooth fleet management
The Linde connect hardware components connect the forklift truck fleet with the associated database software. They collect and transmit control and sensor data and make them available for further processing. They also serve as an electronic ignition lock with PIN or RFID identification.
New trucks are delivered with the Linde connect hardware as standard, and all components are also available as retrofit solutions for existing forklift trucks and those from other manufacturers.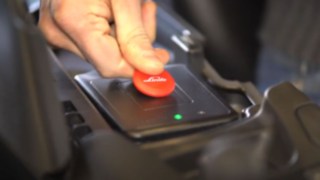 Professional advice and support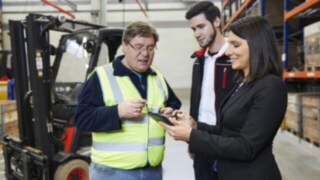 All your components from one source: Experts from Linde and Linde dealers help you to set up, adjust and operate your fleet management. The Linde connect hardware and software components are continually being enhanced and having new functions added.
Fleet management – FAQ
What is fleet management?
Fleet management allows a company's forklift truck fleet to be controlled centrally. This mainly involves optimising the availability of the individual forklift trucks and coordinating the distances that are travelled. Modern forklift trucks continuously collect data for this purpose, which provides information about your status and current capacity utilisation. Fleet management helps to make optimum use of resources and detect problems such as capacity bottlenecks at an early stage.
For whom are fleet management systems relevant?
Fleet managers have the task of planning forklift truck deployment in advance, optimising processes and reducing the operating costs of the forklift truck fleet. The requirements for fleet management differ from company to company, as they are very much dependent on the size of the fleet. Modern fleet management software ensures that you can get the most out of any fleet size. It benefits the experienced fleet manager just as much as the casual user who only requires individual functions.
What makes Linde fleet management so special?
With the Linde connect product family, Linde Material Handling offers the perfect solution for modern fleet management. Linde connect networks forklift trucks and constantly updates the fleet manager about the status of their logistics in production or warehouses. This transparency makes deploying the fleet safer and more cost-effective. The availability of each individual forklift truck increases.