Engineering Apprentices
Begin your career with an engineering apprenticeship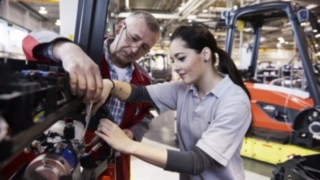 What is an Apprenticeship?
An apprenticeship is a programme in which a person studies towards a formal qualification alongside their work. This can take many forms and here at Linde, we operate an Engineering Apprenticeship Programme.
This 3-year programme follows the Fork Lift Truck Industry Standards and provides our apprentices with the opportunity to work towards a formal level 3 qualification.
After these 3 years, an engineering apprentice will spend an additional period of time completing a number of internal practical assessments, to emerge from this programme, not just as an industry qualified engineer, but a Linde Engineer.
All apprentices will be expected to hold a full manual UK driving licence by the time they have completed the apprentice programme.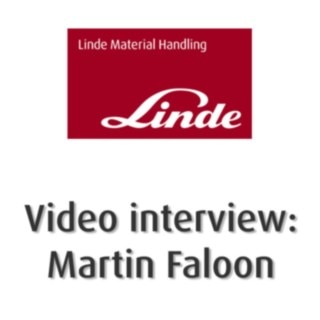 Martin Faloon - Apprenticeship Development Officer
Martin has been with Linde since 2005, starting as a Service Engineer. He is now one of our Apprenticeship Development Officers (ADOs), supporting our apprentices as they progress through the Linde Engineering Apprenticeship Programme.
Click the video to hear more about Martin and his role as an ADO.
Transcript of Martin's video:
Introduction
My name's Martin Faloon. I'm an Apprenticeship Development Officer (ADO) for Linde Material Handling. I started here in 2005 as a service engineer, worked my way through and then progressed, became a mentor, and I've now started as Apprenticeship Development Officer in the last 12 months.
Why is your job worthwhile?
My job is worthwhile because I see apprentices coming into the business, I put them with mentors, I see them grow, I see them mature and gain knowledge throughout their training period. It's fantastic to see them at the end result, passing and getting their certificates for their apprenticeship.
How do you support Engineering Apprentices?
I support the apprentices from a central role. I communicate with the apprentices, the mentors, technical training team, the colleges, to make sure that everything runs smoothly. I review [the apprentices] every three months just to make sure that they are hitting all their targets, their benchmarks, getting the right training and that they're progressing throughout their training period.
What do you enjoy most about your role?
What I enjoy most about my role is seeing the apprentices when they start, having no knowledge and skills, and progressing throughout their three years, and at the end, becoming good, knowledgeable engineers, more than capable of fixing the trucks very easily.
Why join Linde's Engineering Apprenticeship Programme?
Other young people should join the apprenticeship programme because we've got a fantastic apprenticeship running here. We have a team of guys that look after it and make sure that it runs smoothly. We've got fantastic mentors in the business. The managers, the directors, F-Tech Training Centre – our training provider, the technical training team; they're all involved and want the apprentices to become the best they can.
What makes Linde a great company to work for?
It's a fantastic company to work for. The people are brilliant, they're very supportive. They'll help you all the way through your training period and even when you've finished your training period, they're still supportive. You get social skills; you get your technical skills. It's such a lovely company to work for
Training Process Flowchart > >
Your progress through the apprenticeship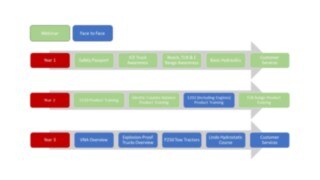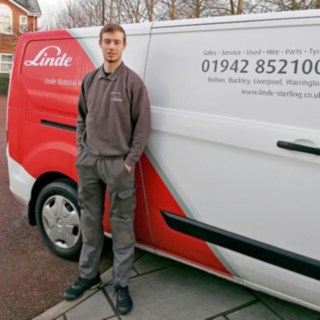 Ryan McCormick – Technician Apprentice
Q What year of the apprenticeship are you in?
A I am a third-year apprentice going into fourth year.
Q What attracted you to the apprenticeship?
A I was originally looking at doing automotive mechanic until a friend of mine suggested going into forklifts as it's got the vehicle automotive side and it also has the hydraulics side which gives me a wider range of skills.
Q What was your onboarding experience / first months with the company like?
A My first experience with the Company was good, everyone made me feel welcome and part of the team. I did the health and safety in my first week, then I went onto Bolton Depot which was the depot I would be working form and where I met my first mentor.
The first month I was there they had me strip a scrap truck down for the spare parts. This was helpful as I had come straight from school and hadn't done much like this before but mentor, service engineers and managers where really helpful when I got stuck and taught me on how parts operate and work.
Q What has your experience been like so far?
A The experience so far has been amazing! The people I've met from the other apprentices in my year to the engineers I've got to work with to the management team, they have all been there when I need help or to answer any questions I have. The skills I've learnt so far are how to communicate better with customers and the team I work in, I've also learnt how to problem solve and how to find solutions. Also learnt how to work independently and as a team.
The things I've enjoyed so far at Linde is learning about the different trucks, the technical aspect of the job and the in-depth jobs and the full strip down and rebuilds. I've also enjoyed going down to FTEC with the group I'm in as we got to learn and talk about similar problems we had and jobs we've all done and the catch ups.
The awards I have won are the:
3rd year apprentice of the year 2021
Overall apprentice of the year 2021
Q Why should others join the company?
A I think others should join as it's a good place to work and teaches you a wide range of skills.
How long is the programme?
Three years plus up to one year Internal Assessment Period
What qualifications and skills will I gain?
Level 3 Apprenticeship in Lift Truck and Powered Access Maintenance and Repair
What support will I have available to me?
Apprentice Development Officers, Mentor, Team Leader, Regional Service Manager etc.
What would my working day look like?
Year one is usually in the workshop learning basic skills and progressing into year two where an engineering apprentice will move to a more field-based role. Year three will be learning how to diagnose faults alongside being taught in college.
What progression is available to me as an engineer?
Resident, Field Service, Apprentice Development Officer, Team Leader, Technician, Technical Support, Regional Sales Manager, Sales.