Fuel cell technology from Linde Material Handling
Let's go hydrogen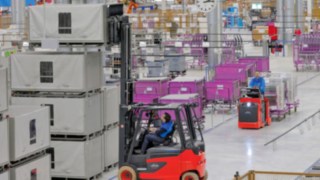 Energy management is increasingly becoming a success factor for companies. This is particularly true in intralogistics. If industrial trucks are equipped with the right drive system, this has a direct impact on performance, cost control and sustainability. That's why we at Linde Material Handling offer a wide range of energy solutions tailored to your needs. These include hydrogen-powered industrial trucks with a hybrid system consisting of fuel cell and lithium-ion battery.
Hydrogen is undoubtedly an important building block in the energy mix of the future, even if its use is limited to a narrow range of applications. Thanks to its high mass-related energy density, hydrogen delivers around three times as much energy as gasoline. Fuel cell systems also enable rapid refuelling, which ensures maximum truck availability. If they are fuelled with green hydrogen, fuel cells also operate completely emission-free and reduce the CO₂ footprint.
Miracle hydrogen: energy from the fuel cell
Trucks with a hybrid system of fuel cell and battery are basically electric vehicles that use hydrogen as an energy source. The electricity is generated directly in the industrial truck. All the necessary components are contained in the so-called Battery Replacement Module (BRM), whose dimensions correspond to a standard battery trough.
In the fuel cell stacks, hydrogen reacts with the oxygen in the ambient air to generate electricity, water and heat (cold combustion). The resulting energy charges an integrated lithium-ion battery. It serves as a buffer storage unit, supplies trucks with electrical power during normal operation and stores the electricity recovered through so-called recuperation during braking. If intensive operations require particularly high power, the stacks can also supply energy directly to the truck.
Since trucks with fuel cells are refuelled instead of charged, there is no downtime waiting at charging points or power outlets as is common with electric trucks.
In daily use, the trucks can be handled like traditional IC models: after a few minutes at the filling station, they are fully operational again. Depending on the truck type, one refill is enough for a complete shift.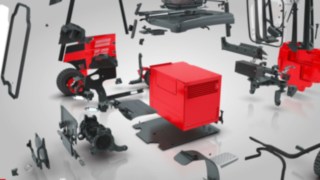 Benefits at a glance
When is it worthwhile to use hydrogen?
Despite its many advantages, hydrogen technology is not the most sensible solution for all applications. Certain requirements should be met to ensure economical use. These include a certain fleet size and a given number of operating hours.
The following overview shows when fuel cell systems are particularly worthwhile and which industries can benefit most.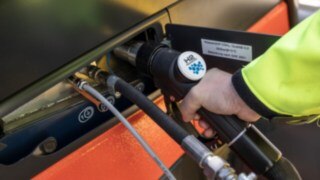 High utilisation
Hydrogen-powered industrial trucks are particularly efficient and durable when they are in permanent use, because frequent switching on and off leads to faster degradation of the fuel cells. Optimally, users deploy the technology in two-shift or multi-shift operation. For applications with fewer than 1200 operating hours per year, the use of fuel cell systems makes less technical and economic sense. However, where round-the-clock operation is the order of the day, for example in the automotive and supplier industry, they prove to be a sensible alternative to IC trucks and electric industrial trucks with lead-acid batteries.
Strict hygiene standards
Compared to lead-acid batteries, fuel cells do not produce any acid or other chemical contamination. As a clean alternative, the technology can even be used in industries with strict hygiene requirements, such as the food and pharmaceutical industries.
Minimum number of trucks
As a rule, the use of hydrogen power is worthwhile for a fleet size of more than 20 trucks with intensive use. This is due not least to the relatively high investment costs. The implementation of a hydrogen solution involves not only the purchase of appropriate trucks, but also investment in the necessary infrastructure. The larger the fleet and the higher the work output per truck and year, the faster the use of hydrogen pays off.
Existing infrastructure
The availability of hydrogen on site is crucial for the efficient use of the technology. Overall, industrial trucks with fuel cell systems are most worthwhile if hydrogen (and therefore the required infrastructure) is already available, for example when hydrogen is needed for the production process or is a by-product of it, or when the heat and power plant and truck fleet are all powered by hydrogen. In all these cases, the conditions for the economical use of hydrogen-powered industrial trucks are ideal. If the hydrogen infrastructure has to be built up first, the economic viability has to be examined on a case-by-case basis.
Limited power supply
Hydrogen can be easily transported and used in places where power supply is not possible or only possible at considerable effort. For example, a company's energy infrastructure may not be sufficient to convert its entire vehicle fleet to lithium-ion drives (risk of load peaks during charging). In this case, hydrogen offers a powerful, low-emission and flexible alternative.
Subsidies
Due to the high investment needed in the infrastructure, the use of trucks with fuel cells usually only pays off when there is a suitable subsidy available. There are numerous funding programs at EU, country and regional level. Depending on the programme, the trucks or the H2 infrastructure are eligible for funding. The focus is on the volume of CO₂ emissions saved. The higher the savings, the higher the probability of a funding supplement.
All on H2: Solutions from Linde
Back in 2000, we at Linde developed the first fully operational forklift truck powered by a fuel cell. Less than 10 years later, we were the first manufacturer in Europe to produce hydrogen vehicles in series. Today, 80 percent of our series are available with hydrogen drive as an option. These include
Pallet trucks
Double stackers
Pallet stackers
Order pickers
Tow tractors
Reach trucks
Counterbalance trucks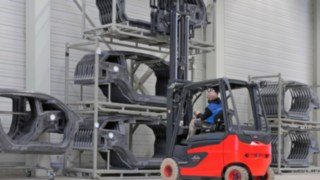 Fuel cell hybrid system 'Linde HyPower'
Linde also offers complete solutions in hydrogen technology. Our customers receive trucks, fuel cell systems and the service that goes with them from a single source. At the Linde Development Centre in Aschaffenburg, we have now developed the Linde HyPower 24-volt fuel cell hybrid system, which offers users numerous improvements:
Powerful stacks and large Li-ION battery
Constant high power level
Maximum energy at peak load
Immediate availability without boot-up
Long service life of the entire system
Particularly quiet operation
Optimal integration into Linde vehicles
The new Linde HyPower 24V Fuel Cell is available for various pallet trucks, pallet stackers, double stackers, order pickers and tow tractors.
Nothing works without it
The question of infrastructure
Hydrogen-powered industrial trucks have many advantages, but they also place high demands on the infrastructure. The hydrogen required is either delivered by tank trucks or pipeline, or produced by the company directly on its premises. If companies want to produce their own hydrogen, additional energy is needed to operate the electrolysis facility.
For transport and storage alone, certain components must be in place, such as tanks, pipelines or high-pressure storage tanks.
To save costs and reduce the company's own CO₂ emissions, electricity from the plant's own wind turbines or photovoltaic systems can be used. In principle, a company's own hydrogen infrastructure is associated with extensive measures and investments. Industrial trucks with fuel cells are therefore particularly worthwhile if a company already uses hydrogen for other purposes or if hydrogen is a by-product of the production process.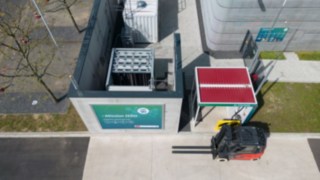 From generation to refuelling: Linde operates its own hydrogen infrastructure
Linde has been operating its own hydrogen infrastructure at the Aschaffenburg site since May 2023. Hydrogen is produced on the plant site by electrolysis from certified green electricity. Linde's infrastructure supplies hydrogen for refuelling 21 forklifts with fuel cell hybrid drives. Linde is thereby expanding its expertise in hydrogen, a technology of the future.
Hydrogen technology in the field
Study with BMW Group confirms economic efficiency
Back in 2013, we joined forces with the BMW Group and the Chair of Materials Handling Material Flow Logistics at the Technical University of Munich to test the economic and technical potential of fuel technology. For this purpose, industrial trucks with hydrogen drive completed over 20,000 operating hours at the BMW body plant in Leipzig.
Result: The H2 drive was convincing due to its high availability and low environmental impact. Even then, it was clear that the technology was marketable and, under certain conditions, economical.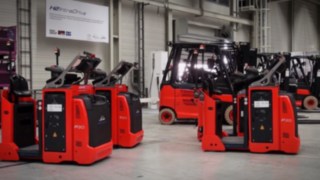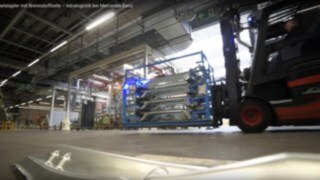 Efficient plant logistics at Mercedes-Benz
With the motto 'Daimler Goes Green', Mercedes-Benz is testing the use of forklifts with fuel cell drive. The location is the world's largest plant for Mercedes Sprinter vans in Düsseldorf. The popular transporters are produced here in three-shift operation.
Hydrogen technology helps to save time and personnel costs for changing batteries. Within just three minutes, the fuel cell is refilled with hydrogen and the truck is ready for use. The technology therefore creates the ideal conditions for smooth shift changes.