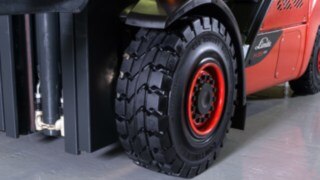 When deadlines are tight and margins under pressure, it is vital that your fleet is working and ready when you need it. Ensuring that your trucks are operational is a constant challenge, so it is essential that you have a reliable tyre partner. Linde is the only forklift company in the UK able to supply and fit tyres using an in-house team, so you know that we are there when you need us. Our partnership with premium brand suppliers ensures we have a portfolio of tyre solutions that deliver reliability, lower costs of operation and are able to operate in the most demanding application where dependability is essential.
The Linde difference:
24-7 cover and rapid response times
Flexible solutions for all types of applications and operations
The UK's only supply and fit service with in-house team
IMI accredited tyre fitters
Mobile fitting for all types of industrial tyres
Tyre stocks at 46 locations
Partnership with leading tyre manufacturer Continental and Michelin
A Perfect Combination
Linde trucks have been designed and built to optimise performance and deliver the lowest cost of ownership. This class leading performance is enhanced when premium tyres are fitted resulting in reduced wear on key components, improved ride for the load, better operator comfort and reduced fuel consumption in many operations.

A Complete Tyre Service Built Around You
Our tyre experts will review your operation and help you select the right tyre for your business, provide monitoring for each truck's usage and evaluate the in-service performance of your tyres, from wear and condition reporting to monitoring your tyre cost per usage hour. Our consultative approach means that your tyre management will fit the needs of your business and deliver a solution that is designed to ensure that you maximise your fleet's operational efficiency and minimise your tyre costs. Our tyre portfolio of premium brands provides solutions for both warehouse and external operations.
Super Elastic Solid Tyres
Continental tyres for demanding, multi-shift operations. This includes the latest tyre technology in the SC20 Mileage+ specifically designed for hard work and the innovative CS Easy which not only delivers up to a 40% improvement in mileage performance, but can be replaced in minutes with a unique fitting system.
ContiLifeCycle tyres. Every Continental tyre is designed with an extended life in mind. To prolong the life of each tyre, ContiLifeCycle enables tyres to be retreaded using materials identical to a new tyre reducing both waste and cost. These tyres are available for operations where premium tyre performance is required but operational intensity is less.
Barum tyres for less intensive, single shift operations. A solid tyre range designed to deliver best-in-class performance for less tough operating conditions.
Case Study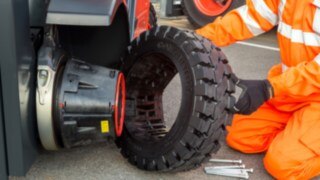 Radial Pneumatic Tyres
Radial tyres offer outstanding mileage and durability. The Continental RT20 and Michelin XZM are tubeless radial tyres suited to all year round performance on difficult surfaces.
These tyres offer excellent comfort, handling and reduced vibration for operator and protection for fragile goods.