Financing
Buy, lease, rent – maximum flexibility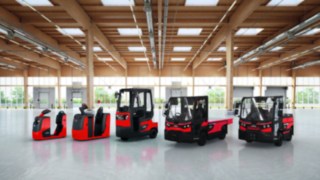 Save costs and conserve capital – with financing solutions from Linde
Our tailored financing plans – such as leasing, rental or rent-to-own – ensure that your company uses its capital optimally, and that your fleet remains up to date with the latest technology at the lowest possible cost. The goal is to have the solution meet the individual requirements of your company – even looking beyond purely financial considerations and regardless of whether you need a single truck, several vehicles or an entire fleet.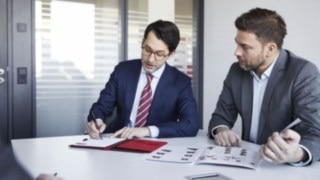 Our range of supplementary services is diverse
Individual servicing or full-service packages
Amalgamated fleets with new and used vehicles
Provision of replacement vehicles in the case of longer maintenance downtime
Initial consultation for the optimisation of operating procedures and safety standards
Linde experts analyse and evaluate the composition of your existing fleet
Retrofitting of existing vehicles with equipment to enhance safety, efficiency or ergonomics.
Long-term management of contracts and requirements for companies with multiple sites
Leasing
Use trucks instead of buying them – and at low costs too
Do you need to use forklifts or warehouse technology trucks in the medium or long term? Then we recommend a leasing agreement with individual terms for fixed monthly instalments – protecting you against depreciation and interest. This does not tie up capital, and keeps you flexible on your balance sheet.
Advantages
Low financial burden, thanks to a calculation of residual value based on use
Conservation of banking credit lines for other investment purposes
Reduction in corporate taxes thanks to leasing rates as business expenses
Rental
For use with service included
Do you need a forklift in the medium to long-term, and simultaneously value the continuous availability of your fleet, with no risk? The Linde Rental Package offers you the advantages of a leased forklift, plus a complete maintenance and repair service at a fixed monthly rate. You have the certainty that your vehicles are ready to go at all times, and are able to foresee the costs in the long term.
Advantages
Guaranteed operational readiness thanks to monthly instalments
All servicing and repair costs covered from the start
Affordable monthly instalments through cost-effective preventative maintenance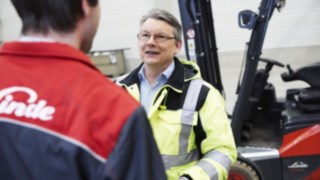 Rent-to-own
From using a truck to purchasing one
Hire purchase is the appropriate choice if you ultimately want to own the vehicle, and thus would like your use of it to be combined with a purchase. With individually arranged payment plans and fixed hire purchase rates, this model functions similarly to purchase on credit, with flexible balance sheet organisation.
Advantages
Buying on credit, thus none of your own capital is used in the purchase
Accounting as a rent-to-own opens up options for subsidies
Discretionary agreement of terms allows instalments to be optimised cost-effectively
Short term rental
For short-term use
Do you only need a forklift now and then, or only for one single use? Logistics vehicles can be hired from Linde for hours, days or weeks. With or without an operator, at fixed or variable prices. With more than 40,000 vehicles, Linde offers the largest short term rental fleet in Europe – and the greatest variety in choice.
Find out more about our short term rental service
Advantages
Flexible coverage for every type of logistical need
No investment of capital necessary, protecting your balance sheet
Reduced taxes thanks to deductible monthly instalments
Find a suitable forklift for hire