Forklift Hire
Flexible Hire Solutions On Demand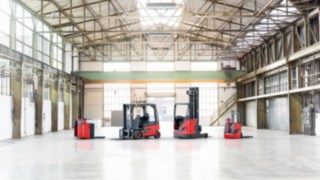 Forklifts for Hire for Any Job
Are your order books bursting at the seams? Do you need help to cover a seasonal peak? Would you like to hire one or several forklifts on a flexible, short-term basis? With the Linde hire service, you can respond quickly and easily to a spike in your workload.
As a reliable partner for forklift hire, Linde offers flexible solutions that meet your requirements and work perfectly together. Linde has more than 60,000 hire trucks available worldwide, and the customer can choose from a broad offer of forklift and warehouse trucks, depending on their requirements. Thanks to our highly qualified service technicians, our rental fleet is always at the cutting edge of technology and is serviced regularly to ensure it meets our high standards of quality.
With a hire period of between one day and one year, we have various flexible options for you to choose from, making it easy for you to hire a range of industrial trucks and forklifts. To help you maximise safety and prevent accidents, we provide a series of training sessions on the proper operation of our hire forklifts. The training sessions can be delivered to you directly on-site or at the premises of your Linde Service partner.
Read More
An Overview of the Benefits of Linde Forklift Hire
Forklift & Warehouse Truck Hire
Long-Term Hire
Do you need forklift or warehouse trucks for long-term use? Then Linde has a range of models for long-term hire that would be perfect for you.
By Leasing forklift or warehouse trucks at constant monthly rates for custom hire periods, you are protected against depreciation and fluctuating interest rates. This does not tie up capital, and keeps you flexible on your balance sheet.
Or why not book the Linde Rental Package for forklift trucks with constant availability, service included. The Linde Rental Package offers you the advantages of a leased forklift, plus a complete maintenance and repair service at a fixed monthly rate. This gives you the certainty that your trucks are ready to go at all times, and allows you to foresee the costs in the long term.

Hire the optimum forklift with our tailored advice
No matter which option you choose, Linde guarantees fast, easy processing and delivery of the products you need. Our service allows you to react to additional demands, last-minute changes, and unforeseeable events in a customised and cost-effective way and guarantees that your operations go uninterrupted. Another advantage of hiring a forklift from Linde Material Handling is that it gives you the opportunity to test out our product range first-hand.
The partner you can rely on at every step of the process
Before
Accessibility: Thanks to our comprehensive hire service network, you will always have a highly skilled contact person nearby.
Fast response: Our experienced hire specialists work quickly to find you a flexible solution to suit your specific requirements.
Industry knowledge: Our hire service team is up to speed with the latest technology and individual industry requirements. This allows Linde to offer professional support at all times and provide you with the best hire solution.
Availability: Every Linde site has a fleet of modern forklifts for short-term hire. With more than 60,000 forklifts for hire, our international hire fleet is able to cover any requirement, regardless of how particular it may be.
Flexibility: The customer has the freedom to choose the hire period according to their specific needs—be it for a day, a year, or just a few hours.
During
Fast service: If required, the equipment you need can be available within 24 hours of your order being received. Linde arranges fast delivery of the rental trucks at the right time, ensuring a convenient experience and no extra hassle for the customer.
Reliability: An experienced Linde service technician checks the forklifts requested in good time before they are sent out, which ensures that they always meet our high standards as well as any legal and safety-related requirements.
Adaptability: Whether you need to change the requirements of the hire trucks or the period of hire, Linde's hire service offers as much flexibility as you could possibly need. For example, we can provide you with different equipment upon request, or shorten or extend the hire period without any hassle.
Assistance: If you need assistance or extra equipment at short notice, our hire service team is on hand to offer help and advice for the duration of your hire period.
After
Warranty: Our hire fleet features cutting-edge technology at affordable prices. That means you will never have any nasty surprises to contend with at the end of the hire period.

Transparency: Administration and invoicing are simple and transparent. We keep the administrative workload to an absolute minimum.

Satisfaction: Your feedback helps us to improve our services and solutions. The feedback from our regular customer surveys has a direct impact on the service we offer.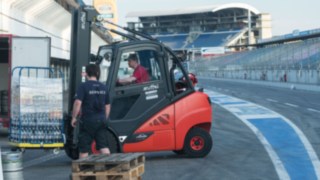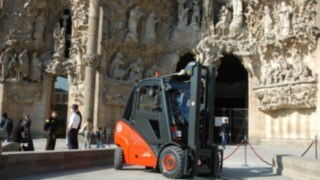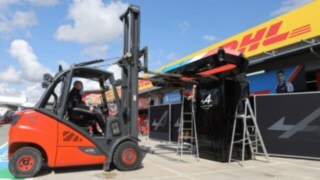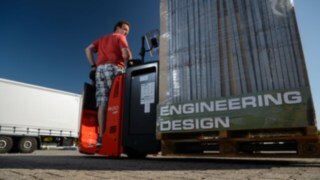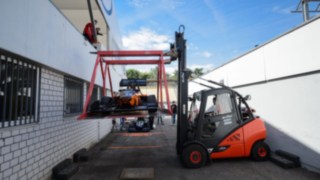 Get in touch!
If you have any questions, require further information about the Linde hire service or our hire trucks, or you would like to hire a forklift, then please contact us. We look forward to assisting you further with our quick and simple service!