Proven and innovative energy systems from Linde
Energy as required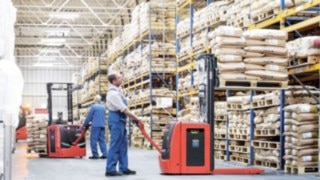 Energy systems for every occasion
The choice of energy system has become an increasingly important factor in intralogistics, with particular attention being paid to the Total Cost of Ownership – or TCO, for short. With this in mind, it is not just the purchase price that plays an important role when buying a forklift truck, but also the operating costs and therefore the energy costs. Each application has its own requirements. These include aspects such as the space requirement for refuelling or charging, energy costs, and environmental sustainability.
This is why, alongside combustion engines and lead-acid batteries, lithium-ion batteries and fuel cells are receiving a growing amount of attention as one of the preferred solutions. Linde Material Handling offers the latest technology for every energy system, along with a wide range of models and comprehensive advice and services.
Energy Quick Check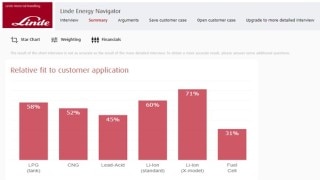 Need something more in depth?
Our Energy Navigator tool is the first AI enabled tool of its kind to provide an initial indication of the best energy source for your intralogistics operation. All that is required is a quick 10 minute interview with one of our representatives who will take you through a series of questions. The tool will then generate a data driven overview demonstrating the most suitable Energy Solution based on your application. In addition, the report will give pros and cons to each Energy Solution, giving you everything you need to make the right decision for your business.

Energy systems from Linde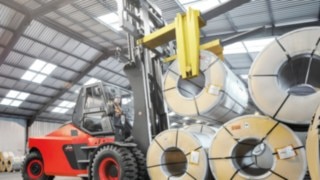 Combustion engine
Strong performance up to 18 metric tonnes
Combustion engines have proven their suitability for use in intralogistics. For decades, Linde Material Handling has been setting the standards for productivity and cost-effectiveness in the development of internal combustion (IC) trucks. Users can choose between diesel engines or trucks powered with propellant or natural gas. In the case of diesel, IC trucks are used outside the covered business premises, while propellant and natural gas-powered trucks are also suitable for use in a variety of indoor applications.
Trucks with combustion engines offer a particular advantage over other systems as their large ground clearance means they can handle even the most uneven ground conditions. Above all, they also boast an impressively powerful engine performance. They can handle load capacities up to 18 metric tonnes and are suitable for heavy-duty applications.
Linde forklift trucks have low-noise and economical engines and can be used for many operating hours without interruption. The service intervals are impressively long, and easy to access service modules ensure that maintenance processes are dealt with quickly.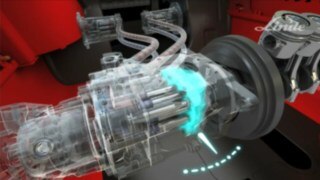 A sensitive powerhouse
Linde was the first company to use a hydrostatic drive for IC trucks. This features a pump that is powered by the internal combustion engine. This pump transmits power in the form of oil pressure via a closed circuit linked to the two hydraulic engines in the drive axle. The operator controls the volume and direction of the oil flow—and therefore the speed and direction of the truck—using two pedals: the Linde dual pedal control.
The truck's direction can be changed simply by switching pedals. When doing so, the closed oil circuit brakes the truck, not only dispensing with the need for a braking system, but also for a clutch and transmission. This way, Linde's hydrostatic drive is able to work smoothly, continuously and entirely uniformly. This innovative form of transmission is what gives Linde's internal combustion trucks their dexterity and efficiency.
Lead-acid batteries
Ideal for light to medium-duty applications
Electric forklift trucks and warehouse trucks with lead-acid batteries remain a good alternative for reduced utilisation. This applies, for example, to retailers who only need the truck for loading and unloading for a few hours each day. Investment costs are similar for both IC trucks and electric forklift trucks with lead-acid batteries. Lead-acid trucks are generally somewhat more cost-effective in terms of servicing and are also suitable for indoor use. This technology has proven itself over decades of use.
In order to ensure accurate operational planning, the remaining battery level display on Linde electric forklift trucks and warehouse handling equipment is accurate to the minute. In multi-shift operation, a battery change is generally required but, with a total of five options for Linde electric forklift trucks, this process is particularly flexible. There is also the option of ordering the truck with an integrated charger. Since the truck's applications are extremely varied, Linde offers a variety of different battery capacities for the relevant intensity and duration of use.
Lithium-ion batteries
Flexibility is key
One challenge in electromobility is ensuring that the trucks have the same level of availability as they do with combustion engines. This is where lithium-ion (Li-ion) technology comes into play, providing a whole range of advantages for both electric forklift trucks and warehouse trucks compared to lead-acid batteries.
Costly and time-consuming battery changes are no longer required, as the battery can also be charged mid-shift during short breaks. The combination of Li-ION battery and Linde charger increases the overall level of efficiency by up to 30 percent compared to lead-acid batteries, which leads to lower energy costs. A constant voltage means there is no performance loss even when the battery's charge level is dropping. Also, since there are no longer any battery gases emitted, additional investment in battery charging areas and ventilation is no longer required.
The Linde Li-ion solution increases truck availability and makes operation more cost-effective, safer and more sustainable. It is generally suitable for all applications. Its advantages really come into play for intensive applications, such as multi-shift operation, use in cold stores or in the beverage industry, but also for particularly sensitive working areas such as in the pharmaceutical and food industries. Different battery capacities are also available in combination with different charging capacities, ensuring a high level of flexibility.
For companies looking for an emissions-free alternative, forklift trucks and warehouse trucks with lithium-ion batteries are a good option. Linde provides an advisory tool for calculating the Total Cost of Ownership (TCO) and which can be customised for different applications. Based on the individual customer application, the calculator shows which energy package is the most suitable.
Fuel cells
Lightning-fast refuelling
In addition to the application requirements, aspects such as the space required for refuelling or charging, energy costs, and environmental sustainability play an important role when searching for the right energy system. Fuel cells offer an interesting alternative here. In the fuel cell, hydrogen and oxygen react to produce electricity, heat and water.
Forklift trucks with fuel cells can be refuelled with hydrogen in just one to three minutes. The high availability of the trucks is a major advantage in tough multi-shift operation. This makes the technology of interest for use in production environments as well as intensive logistics services. The infrastructure for hydrogen refuelling can also be implemented in a way that saves space.
As the costs for hydrogen have fallen significantly in the last few years, this has also brought advantages in terms of operating costs. The fact that time-consuming battery changes are no longer required, combined with the fast refuelling times, has enabled an increase in productivity, safety and hygiene.
Infrastructure requirements
Depending on the operating requirements, fuel cell technology already represents the ideal energy system for some companies today. Linde can develop a suitable solution concept on an individual basis. In order to guarantee efficient usage, certain requirements, such as fleet size, hydrogen infrastructure and conveyors must be taken into account.