Versatile load handling in confined spaces
The compact E10 electric forklift truck from Linde Material Handling combines high manoeuvrability with a wide range of application options. With a lifting capacity of up to 1000 kilograms, it is the smallest model in its series but is suitable for a multitude of applications thanks to its optimal weight distribution. Its short wheelbase, compact construction with a width of just 828 millimetres and optimal steering concept enable stacking, transporting, order picking, loading and unloading, even in the tightest spaces. Automatic speed reduction when cornering also gives the E10 high stability.
Characteristics
Safety
The E10 is extra stable thanks to its standard speed reduction feature based on the curve radius and lifting height. It also has an overhead guard to protect the operator against falling loads. Further safety is also provided by optional additional equipment like the LindeBlueSpot™and LindeTruckSpot™. A warning sign projected on to the floor signals that the forklift truck is approaching, thereby warning those in the immediate working area. An optional flashing warning light, fitted underneath the overhead roof guard, makes the E10 even easier to see and helps to prevent accidents at work.
Automatic speed reduction
Overhead guard against falling loads
BlueSpot™ and TruckSpot™ (optional)
Optional flashing warning lights
Ergonomics
The operator's workstation on the E10 gives the operator enough space to move and provides them with a perfect view of the load and the environment at all times. The optimal design of the operator's workstation provides a high level of operating comfort, ensures maximum productivity, and enables fatigue-free working. The padded backrest ensures that the operator can adopt a comfortable position. The E10 can also be operated without having to change hand positions. Since it is no longer necessary for the operator to change the position of their hands and body, less strain is placed on them and they can adopt a more comfortable working position. A low access height of just 120 millimetres on both sides of the forklift truck provides easy access.
High freedom of movement for optimal visibility
Padded backrest
Fatigue-free working without changing position
Low access on both sides
Handling
Easy and intuitive steering using the components integrated into the front panel allows the operator to control the E10 with precision and efficiency. Together with speed-dependent steering, this reduces the steering effort and therefore the strain placed on the operator, particularly in confined spaces. The narrow aisle width and the small turning circle guarantee optimal manoeuvrability and make the E10 ideal for use in cramped conditions. The battery is positioned at right angles to the direction of travel thus ensuring optimal weight distribution and extra-stable operating behaviour. An optional dual-command joystick on the back of the operator's cabin can be added to facilitate reversing. The operator keeps their left hand on the steering wheel and can control the reverse manoeuvre with their right hand while staying in a comfortable position. This means they can drive forwards and backwards without having to twist their body much.
Easy and intuitive operation
Speed-dependent steering
Narrow aisle width and small turning circle
Optimal stability thanks to crosswise position of batteries
Optional dual-command joystick
Service
All of the E10's important components are easy to access, which facilitates servicing and repair work and saves a lot of time. This reduces downtimes to a minimum. The battery is also particularly easy to access for regular charging as the battery flap can be opened quickly. This also takes the hassle out of day-to-day battery maintenance interventions.
Easily accessible components
Time savings for servicing and maintenance
Low downtimes
Easy battery access
Technical Data
| Model | Load capacity/Load | Lift | Travel speed, with/without load | Battery voltage/rated capacity (5h) | Aisle width with pallet 800 x 1200 along forks |
| --- | --- | --- | --- | --- | --- |
| E10 | 1.0 (t) | 1660 (mm) | 8 / 12 km/h | 24 / 300 (V)/(Ah) o. kWh | 2944 (mm) |
| E10 Container | 1.0 (t) | 1460 (mm) | 8 / 12 km/h | 24 / 300 (V)/(Ah) o. kWh | 2944 (mm) |
Optional Equipment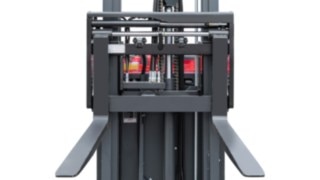 Fork arm positioner
The fork arm positioner can be used to place goods on lorry loading areas and rack shelves with millimetre precision, so loads can be positioned more quickly and precisely.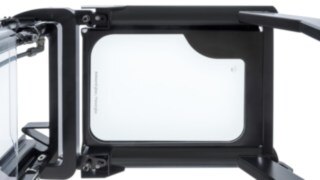 Armoured glass panoramic roof
An armoured glass panoramic roof provides a clear view and reliably protects the operator against falling loads.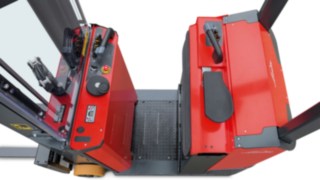 Dual-command joystick
The dual-command joystick is a second control element that is located on the back of the operator's cab and facilitates reversing. The operator can remain in a comfortable position, keeping one hand on the steering wheel and using the other to control the reversing manoeuvre.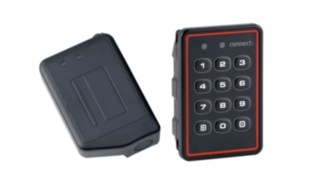 Access control
Access control via the Linde connect fleet management system ensures that forklift trucks are only used by authorised persons. The operator must identify themselves by PIN or RFID card before the forklift truck is started.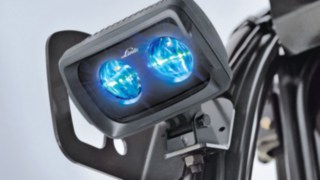 Linde BlueSpot™
The LindeBlueSpot™is an optical warning signal solution which emits a light signal to indicate that the truck is approaching.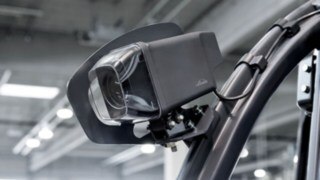 Linde TruckSpot™
Linde's innovative warning systemTruckSpot™takes the proven advantages of the Linde BlueSpot™ and enhances them with a large-scale warning symbol with high-contrast colours.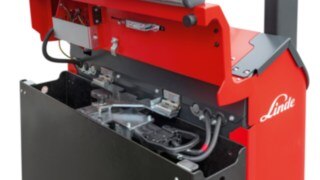 Lateral battery change
Lateral battery removal via roller bearings enables quick changes for use in multi-shift applications.
Storage compartment
A large storage compartment on the battery side of the truck provides storage space for working materials.
Get a Quote