Order pickers
Enhanced handling with reduced physical strain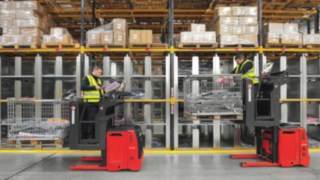 Optimal paths when picking
How quickly the picking goes ultimately depends on the truck operator. If the strain on them is low and the paths are short, this saves power and time. But warehousing processes and types of goods differ depending on sectors and operations. That's why Linde Material Handling uses trucks with a modular design for its picking devices, in order to help to minimise physical strain on the operator and increase the efficiency of the picking process in any working environment.
All-round ergonomic working conditions are a fundamental part of the truck designs, including vibration-cushioned platforms, intuitively laid out control panels, low entry height and sufficient space for terminals and mounting brackets. Linde assembles each truck individually based on the modular system. Once complete, every last detail is suited to the application – vital when it comes to high handling capacities.
Which order picker fits your requirements?
Each application is individual. Factors such as load carrier, weight of goods, shelf height etc. differ from application to application. Based on a few questions about your operating conditions, we can give you an indication of which order pickers from our portfolio could be a solution for you:
Solutions for any working height
Linde offers a wide range of order picking equipment to suit all shelf heights, aisle widths, and order-picking methods. The V-model, for example, offers a maximum picking height of twelve meters. Linde has developed special design features that simplify the process of picking for every height – from the layout of the control platform and control panels, to the fold-out cab railings.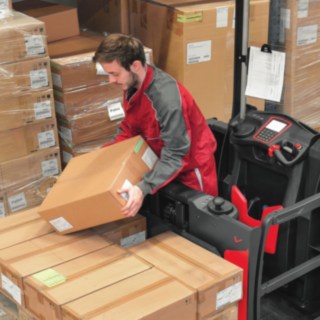 Working ergonomically at every level
In order to be able to pick in a focused and productive manner, people need ergonomic and comfortable workplaces. That is the principle upon which every detail of the design of these order pickers is based: The low entry height is gentle on the legs when mounting and dismounting, platforms with non-slip mats that are decoupled from the chassis by rubber supports reduce the effect of vibrations, and operation is simple thanks to ergonomically shaped control panels. When appropriate, the operator can operate the truck's functions from two positions. Models designed for working at higher levels also feature larger cabins with lower railings and tilt barriers to the sides. Ultimately, working high up is as easy and safe as working at floor level.
Maximum safety
Whether it is while the order picker is moving up and down or during driving, the operator's entire body remains safely within the confines of the truck – aided, among other things, by compact steering and a generous cab area. The various assistance systems are also important: For example, the truck automatically reduces speed while going round bends. The same applies for driving with an elevated cabin. The optional personal protection system monitors the operational path via a scanner, stopping the truck if there are obstacles. In addition, technicians define fixed lifting and lowering stops in the forklift system depending on the site, meaning that low ceilings or uneven flooring no longer represent a risk.
Bespoke trucks for rapid order picking
How high up are the goods? How large and heavy are they? What picking frequency does the operator need to achieve? The answers are different for every user. That's why Linde develops entirely individual order pickers based on a modular system, featuring, for example, different mast heights, working platforms, chassis sizes, and operating and control concepts. Ultimately the truck is perfectly suited to the task at hand and makes every task easier.
Driving forward the development of the order pickers
Linde is constantly developing its order pickers, aiming to make working conditions even safer and more ergonomic for operators, which is why, for example, the latest generation of order picking devices feature an even lower entry height. At the same time, the modular concept is always in focus, meaning the number of equipment options is constantly growing.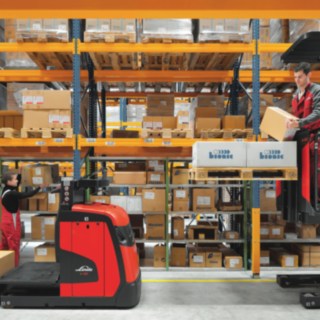 Five times the performance
Faster
If required, the order picker can drive and raise its platform simultaneously. This vertical movement allows the operator to reach their destination in the shortest possible time.
Safer
Integrated contact sensors prevent the hands from being outside the chassis during movement. The truck will only respond to commands when both hands are on the controls.
More convenient
Models designed for higher working heights feature electrically monitored tilt barriers. If the operator leans against them they tilt outwards – increasing the operator's reach by approximately 50 centimetres and making goods on the shelf easier to reach.
Healthier
The order picker's stand platform is decoupled mechanically using rubber supports. Vibrations from the undercarriage and chassis are not felt by the driver, or are greatly reduced when transferred to the driver.
More efficient
Thanks to Linde's fleet management software connect: alongside various semi-automatic solutions and assistance systems, users can semi-automatically optimise the entire life cycle of their trucks.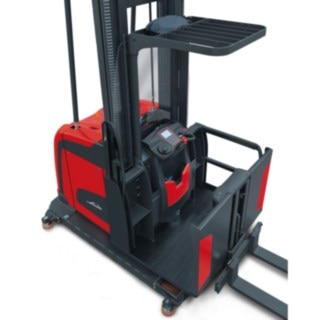 Safety and efficiency – made to measure
Linde order pickers are based on a modular concept. But users do not just choose their mast and motor, or the chassis of their model: they can do so much more – especially with regards to operation and safety. Options include, among other things, assistance systems, various mounting systems for work equipment, buttons that allow walking alongside the truck, acoustic warning signals, mirror modules, and ergonomic backrest upholstery.