High performance precisely measured
Linde's electric E100 – E180 heavy trucks are the most powerful in their class. They combine the best of both worlds of E trucks and IC trucks: the series combines the power delivery characteristic of diesel vehicles with the environmentally friendly, quiet, dynamic operating style of electric forklift trucks. The new heavy trucks transport and stack loads of up to 18,000 kilograms at heights of up to ten metres. The electric forklift trucks draw their energy from either two lead-acid or two lithium-ion batteries. Customers can therefore choose between a cost-efficient variant for light and medium applications and equipment for demanding tasks and high utilisation. A quick battery change is possible for 24/7 use. Thanks to the powerful electric motors, the new heavy trucks are in no way inferior to Linde's most powerful IC truck to date, putting them at the top of the performance range.
Characteristics
Safety
The E100 – E180 heavy trucks are designed to provide the best visibility in all directions. The view to the rear is unobstructed and the glass doors on both sides allow an unrestricted view, which prevents collisions and accidents. Optimised lift mast profiles and an armoured glass roof also allow the operator to keep an eye on the goods being transported during storage and retrieval. This contributes to safe and precise load handling. The batteries integrated into the chassis not only contribute to excellent visibility, but also shift the centre of gravity of the truck downwards. As a result, the heavy trucks are characterised by high stability.
Excellent all-round visibility
Visibility-optimised masts
Armoured glass roof facilitates load handling
High stability through low centre of gravity
Ergonomics
With the compact chassis integrating both batteries, the heavy trucks offer excellent visibility in all directions. In addition, the ergonomic work station reduces the physical strain on the operator: they can transport, store and retrieve loads for many hours in comfort. The precise driving behaviour, which allows the trucks to be moved with millimetre precision, also contributes to fatigue-free working. At the same time, the trucks are almost silent when on the move, reducing hearing strain on employees. The electric forklift trucks also contribute to a healthy working environment through their emission-free drive technology.
Comfortable seating position with all-round visibility
Precise handling
Low noise emission
Handling
No matter whether the electric heavy trucks are only in use for a few hours or non-stop: every customer can select the energy system that suits them best and choose either the more economical lead-acid battery pair for light to medium applications or the lithium-ion system for demanding transports under continuous full load. Should the customer change the truck's application in the future, the battery technologies can be exchanged easily and without further adaptation to the vehicle. This guarantees the best flexibility. The electric motors provide exceptionally dynamic acceleration, which contributes to outstanding handling performance. The excellent all-round visibility enables precise handling of large and heavy loads.
Flexible adaptation to any customer application
Choice between lead-acid and lithium-ion batteries
Cost-efficient variant for light applications
Dynamic operating performance
Service
Thanks to the tilting cab, all technical components are easily accessible, which simplifies repairs and reduces maintenance-related downtimes. The standard components used make repairs even easier. The batteries can be replaced within a few minutes. Switching between lead-acid and lithium-ion batteries is possible at any time without having to replace additional hardware.
Easily accessible service components
Standard components simplify repairs
Quick, easy battery replacement
Technical Data
| Model | Load capacity/Load | Load centre distance | Wheelbase | Turning radius | Travel speed, with/without load |
| --- | --- | --- | --- | --- | --- |
| E100/1200 | 10.0 (t) | 1200 (mm) | 3000 (mm) | 4102 (mm) | 18 / 20 [23/25] km/h |
| E100/600 | 10.0 (t) | 600 (mm) | 3000 (mm) | 4102 (mm) | 18 / 20 [23/25] km/h |
| E120/1200 | 12.0 (t) | 1200 (mm) | 3250 (mm) | 4338 (mm) | 18 / 20 [23/25] km/h |
| E120/600 | 12.0 (t) | 600 (mm) | 3000 (mm) | 4102 (mm) | 18 / 20 [23/25] km/h |
| E140/1200 | 14.0 (t) | 1200 (mm) | 3250 (mm) | 4512 (mm) | 18 / 20 [23/25] km/h |
| E140/600 | 14.0 (t) | 600 (mm) | 3000 (mm) | 4102 (mm) | 18 / 20 [23/25] km/h |
| E150/1200 | 15.0 (t) | 1200 (mm) | 3500 (mm) | 4754 (mm) | 18 / 20 [23/25] km/h |
| E150/600 | 15.0 (t) | 600 (mm) | 3250 (mm) | 4338 (mm) | 18 / 20 [23/25] km/h |
| E160/1200 | 16.0 (t) | 1200 (mm) | 3500 (mm) | 4754 (mm) | 18 / 20 [23/25] km/h |
| E160/600 | 16.0 (t) | 600 (mm) | 3250 (mm) | 4338 (mm) | 18 / 20 [23/25] km/h |
| E180/600 | 18.0 (t) | 600 (mm) | 3250 (mm) | 4512 (mm) | 18 / 20 [23/25] km/h |
| E180/900 | 18.0 (t) | 900 (mm) | 3500 (mm) | 4754 (mm) | 18 / 20 [23/25] km/h |
Optional Equipment
Heating
An electrical heater and seat heating are provided.
Air-conditioning*
The powerful air-conditioning system with integrated heating and pollen filter guarantees a comfortable working environment in the cab all year round, while also preventing windows from fogging up.
* contains fluorinated hydrocarbons
Attachments
Hydraulic fork positioners in different designs, multiple pallet clamps, rotators, clipboards, carrying pins and much more are all available.
Li-ION technology
With lithium-ion batteries, trucks can be recharged in a very short time and charged intermediately during operation. This increases the availability of the trucks.
Flexible lift mast heights
Standard, duplex and triplex masts are available to customers to meet the wide range of application requirements.
Load weight indicator
A load weight display helps the operator handle loads safely and efficiently. It measures weight in steps of +/- 100 kilograms.
Seat variants
A large selection of seats ensures additional comfort and active protection against postural injuries with functions like seat heating and seat ventilation.
Reverse camera
The image from the reverse camera can be shown on the integrated 7-inch display and ensures optimum rear visibility.
Get a Quote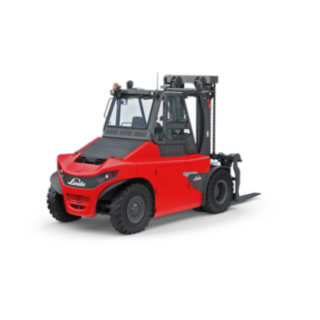 E100 – E180