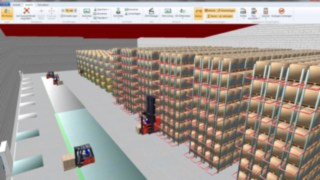 STRATOS: For maximum return on your investment
Linde has always understood the major role correctly specified material handling equipment plays in reducing handling costs. The right equipment working to maximum effect in a given storage and distribution system provides efficient, cost-effective load handling enabling increased productivity and the ability to cope effectively with growth.
With this in mind, alongside designing new models to meet the ever increasing demands of modern warehouses, Linde developed Stratos to provide accurate storage layouts and simulations,whether for a green field site or for an existing operation requiring extension or modernisation.
STRATOS is able to analyse all levels of a warehousing project, provide optimum storage layouts and also a detailed view of the warehouse operation using dynamic simulations of pallet throughputs, order picking rates, truck movements and their consequent energy consumption. It can also be used to review marshalling areas and dock utilisation to control potential bottle-necks.
STRATOS can assist in identifying the most effective type of material handling equipment for each function and also calculate the number of trucks required, as well as the amount of racking to suit a specified layout.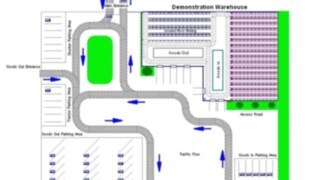 Linde developed the Stratos software system to allow warehouse projects to be accurately costed in the early planning stages by permitting the client to examine the individual aspects on a progressive basis, i.e:
Site survey
Planning options
Throughput analysis
Simulation
Presentation
Implementation
When the project is complete and operational, Stratos can be used to effectively analyse throughput increase, peak demand effect etc. giving support before, during and after the project.

Stratos: For optimum space utilisation and throughput
With the details of the loads to be stored, alternative racking layouts can be generated automatically. These can be displayed on the screen and easily adjusted for best fit. Reconfiguring the layout to suit narrow aisles, wide aisles, mobile racking or block stacking, for example, can be achieved very quickly to evaluate each alternative. 3D visuals of the warehouse provide the client with a clear schematic overview of the project.
As storage zones are created, the details can be instantly viewed: the number of storage locations, the utilisation of area and volume, the physical dimensions and, to assist costing, the number and lengths of racking beams and uprights in the plan.
Important dimensional views such as: beam heights, overall height of loads, aisle widths and operating clearances are automatically generated, giving both client and designer an instant,detailed view to work with, as well as providing confirmation of the validity of the scheme. The simulation function can then be used to evaluate performance.
Simulation
In major projects, after the design concept has been established, Stratos simulation techniques are applied to analyse and validate the potential throughput and material flow.
By programming the proposed delivery and despatch schedules and volumes, together with the activity levels of the material handling equipment, a dynamic on-screen simulation of the operation can be viewed verifying storage area and equipment utilisation, energy usage forecasts and delivery on-time performance against targets.
Stratos provides a complete overview so that modifications, adjustments and alternatives can be easily assessed to produce the best solution for the client's needs.