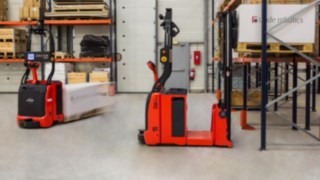 Our world is Changing
As consumers, we are becoming ever more demanding of the delivery process of the goods we buy. We are continually in search of quicker delivery times, lower prices and more flexibility. A more demanding world needs more innovative solutions. Here at Linde we are driven to help you implement intelligent systems and processes that ensure the flow of material in and around your business is quicker and more efficient than ever before.
Recognising the changing market dynamics and customer demands, Linde have established Linde Logistics Solutions; a specialist unit dedicated solely to helping customers with their complex material handling needs. Linde Logistics Solutions' team of experienced experts will work together with you to undertake complex projects that will yield operational efficiencies, improve productivity and better utilise both equipment and labour resources.
Comprised of Robotics & Automation, Storage Solutions and consultancy services, Linde Logistics Solutions have the most comprehensive range of products and services to meet your needs.