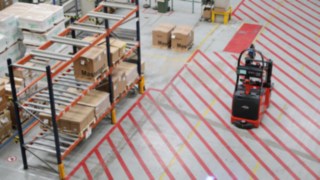 Schneider Electric provides digital energy and automation solutions for efficiency and sustainability. Since the company operates in around 150 countries, logistics is a crucial aspect for the company's overall efficiency. One important logistics hub is in Sant Boi de Llobregat, Spain, close to the port of Barcelona.
With changing market conditions, Schneider Electric decided to automate parts of their intralogistics to improve the overall efficiency. Linde Material Handling delivered two automated L-MATIC AC pallet stackers after the location had been thoroughly analysed and prepared. Several challenges had to be overcome to experience the full potential of automated operations.
Empowering the distribution hub
Including the centre in Sant Boi, Barcelona, Schneider Electric has more than 90 logistics centres across the world. Sant Boi receives the products manufactured by the multinational company and distributes them to any location in Spain and Portugal. In fact, the centre is also one of the modern international distribution hubs of the company. To maintain its leading position within the industry, Schneider Electric constantly improves crucial processes within their logistics centres.
The market has changed and so our logistics centres have had to adapt to the needs of our customers. With the decision to automate processes, we are aiming to massively improve our productivity," says Salvador Balaña, Project Engineer at Schneider Electric. Raquel Gasco, head of engineering and maintenance at Schneider Electric, adds: "We compared various suppliers and after testing the L-MATIC AC I saw how fast and easy it was to implement the solution, enabling us to quickly turn our vision into reality."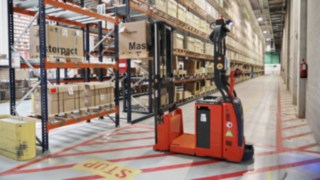 Analysing the work processes
The project started with an analysis of the work processes in the logistics centre in Sant Boi. Subsequently, the Linde experts proposed a plan that would meet the company's final objective and deliver a turnkey project with automated trucks. One of the biggest challenges Linde Intralogistics Solutions solves is the interaction between employees, the environment and the infrastructure.
There are two buildings with a total area of 53,000 m2 at the Sant Boi centre, with 250 professionals working there.
"One key objective was to reduce the movement of employees, which helps to increase their productivity. This measure indirectly gives us more control over the material and traceability, enabling us to locate every package," explains Salvador Balaña, Schneider Electric's project engineer.
More control, more efficiency
By integrating automated trucks into their intralogistics operations, Schneider Electric has achieved greater efficiency through improved control of the flow, greater continuity and better organisation of the work. Raquel Gasco concludes by emphasising that "above all, we have succeeded in ensuring that our operators can spend more time on work that adds value that represents a significant contribution to the company".
Five times more daily operations
Schneider Electric is already planning to double the number of automated trucks in their fleet: "After the stunning results we have seen within the last month, it just makes perfect sense to move forward and increase our fleet of automated trucks. We have also decided to switch to Lithium-Ion technology to increase the work capacity", says Salvador Balaña. This will take Schneider Electric's total of automated trucks to four, and technicians expect the number of daily operations in Sant Boi to increase by a factor of five.