Electrical power for heavy loads
The powerful Linde E60 – E80 forklift models are ideally suited for heavy loads weighing in at between 6000 and 8000 kilograms. The compact axle comprises two powerful drive motors that harness the power of maintenance-free brakes and smart integrated performance parts. Low energy costs, emission-free drive, and minimal maintenance costs all guarantee extremely cost-effective truck usage, while the Linde energy management technology ensures smart, transparent energy consumption. Plus, a display shows residual capacity to allow greater planning accuracy. Operational reliability is increased thanks to the double transmission and control of electronic signals.
Characteristics
Safety
Safety is paramount when dealing with loads weighing up to 8000 kilograms. The protective roof of the E60 – E80 electric forklift trucks combine with the cab's frame to form a large protective zone for the operator. The use of encapsulated lift mast profiles allows for good visibility while handling loads, and the automatic parking brake guarantees the ultimate in safety even while working on ramps. Plus, the safety features of this series are complemented by redundant controls, electronic traction control, and high residual load capacities, while low noise levels contribute to operational reliability.
Robust overhead guard
Enclosed safety zone
Traction control system
Components offering optimal visibility
Low noise levels
Ergonomics
Exceptional comfort for the operator is required if they are to work at peak performance. An innovative decoupling concept, which sees the mast and axle disconnected from the operator's cab, shields the chassis against vibrations, significantly enhancing the operator's comfort. All the controls of the E60 – E80 models are ergonomically laid out in the operator's cab, and the adjustable armrest and seat unit, the ample leg room, and Linde Load Control all ensure the best possible conditions for fast, fatigue-free work.
Ergonomic controls
Adjustable armrest and seat unit
Vibration protection for the operator
Ample leg room
Handling
In the E60 – E80 electric forklift truck range, effective handling is assured thanks to a number of Linde technologies. These include the fingertip-controlled Linde Load Control unit and Linde Curve Assist – a speed control which reduced the risk of overturning when cornering. What's more, Linde dual pedal control allows for rapid and precise forward and reverse driving without the operator having to reposition their feet. The two powerful drive motors, maintenance-free brakes, and smart, water-cooled performance parts form a complete unit on the compact axis, ensuring precise, effective load handling.
Linde Curve Assist
High efficiency design
Precise dual pedal control
Fingertip-controlled load handling
Service
Electric forklift trucks are exceptionally reliable thanks to the fully encapsulated drive and lift unit. The classic Linde electrical control protection and water cooled precision parts ensure high availability even under extreme conditions. Extremely long maintenance intervals are the calling card of the E60 – E80 R model series. This is because the entire drive axle – including the three-phase motors, reduction gear, and oil bath disk brakes – and the mast and tilt cylinders are entirely maintenance-free. The first general service only needs to be carried out after 1,000 operating hours, and the hydraulic oil only needs to be changed after 6,000 hours. With their easily accessible service parts, the trucks are designed to ensure uninterrupted use.
Long maintenance intervals
All components easily accessible
Important parts maintenance-free
Encapsulated drive
Technical Data
| Model | Load capacity/Load | Load centre distance | Height of overhead guard (cabin) | Travel speed, with/without load | Power consumption according to VDI cycle |
| --- | --- | --- | --- | --- | --- |
| E60 | 6.0 (t) | 600 (mm) | 2838 (mm) | 16 / 16 (km/h) | 15.9 (kWh/h) |
| E70 | 7.0 (t) | 600 (mm) | 2838 (mm) | 16 / 16 (km/h) | 16.7 (kWh/h) |
| E80 | 8.0 (t) | 600 (mm) | 2838 (mm) | 16 / 16 (km/h) | 18.3 (kWh/h) |
| E80/900 | 8.0 (t) | 900 (mm) | 2838 (mm) | 16 / 16 (km/h) | 21 (kWh/h) |
Optional Equipment
Rear charging access
Charging access to the rear of the forklift means the trucks can be kitted out for even easier charging. This access features an active vent.
Additional hydraulics
The truck can be equipped with one, two, or three additional hydraulic circuits, allowing for the connection and operation of other equipment.
Polycarbonate screen
A robust protective polycarbonate grill can be fitted to protect the roof of the operator's cab against damage and scratches.
Glass cab roof
A transparent sheet of armoured glass can be installed to give better upward visibility.
Joystick selection
The instrument panel can be supplied with a choice of joysticks for individual functions or a single multi-functional joystick.
Get a Quote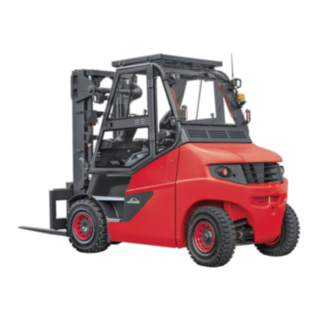 E60 – E80