The innovative Linde Steer Control steering concept
A Better and Effortless Way to Work
Driving a Forklift Has Never Been Easier
Welcome to the next level: An outstanding operating concept that further reduces physical strain, is even more enjoyable to drive, and maximizes productivity throughout each shift. This unique solution allows drivers to maneuver their counterbalanced forklift trucks with minimal movement and maximum precision, using either the mini-wheel or the joystick, with their steering arm resting comfortably on the armrest. And the conventional steering wheel? That's become a thing of the past.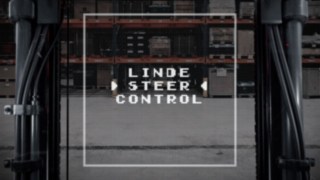 Linde Steer Control. The Easy Route to Happier Drivers.

IT´S A LINDE
The Advantages Speak for Themselves
For Companies
Improved safety thanks to more precise steering maneuvers and better visibility
Less damage to equipment, goods, and infrastructure
Lower absenteeism rates caused by stress and strain
More efficient work processes and increased handling performance overall
For Drivers
Significant reduction in required movement
Prevention of unbalanced stress and strain
Less fatigue and greater ability to concentrate
Improved view of the forks as the steering column is no longer required
What Customers Say …
Get the Hang Quickly with the Mini-Wheel

"It's a whole new driving experience. You're much more focused because of how sensitive the steering is, and because you only have to move your fingers."
Özkan Erdogan, Forklift Driver, WDI GmbH
To the case study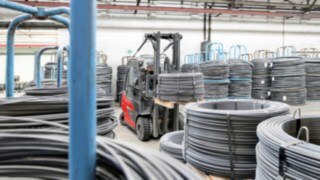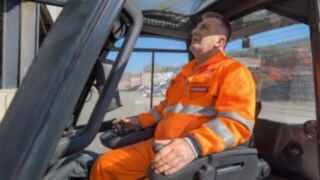 Full Control during Rapid Maneuvers: with the Joystick

"The joystick makes life much easier for my people. They all swear by it; both those who drive forklifts every day and those who only use them now and again."
Pascal Mattner, Foreman, Remondis GmbH & Co. KG
… and What the Research Shows
Linde Material Handling commissioned an independent scientific study to investigate how Linde Steer Control impacts everyday working life in logistics. As part of the study, RWTH Aachen University teamed up with fka (who specialize in innovative engineering for the mobility industry) to analyze typical movement profiles when operating forklifts using special cameras. This involved test subjects negotiating two identical driving courses using the conventional Linde steering wheel as well as the Linde Steer Control variants.



The results clearly showed that the Linde steering concept reduces shoulder movements by 25 percent and elbow movements by an amazing 45 percent. These values were determined objectively and also align with testers' subjective impressions. To quote one of the study participants on the mini-wheel: "It doesn't take long to get used to, and once you have, there's no going back to the standard vehicle."
Are you interested in testing a forklift with Linde Steer Control? Or do you want to find out more about our new steering concept?
Trucks with Linde Steer Control