No compromise on performance and sustainability
Green Performance
In view of climate change, almost all companies are facing the same challenge: how to reduce carbon emissions without sacrificing profitability and competitiveness.
We at Linde Material Handling are already offering intralogistics solutions for a better tomorrow today. We promise to help you reduce energy consumption, cut emissions, and minimise costs – all while maximising the productivity of your fleet!
That is "Green Performance" for you.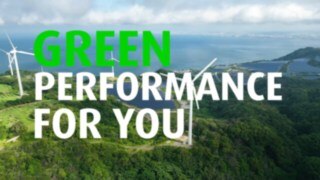 Red is the new green: technologies from Linde
From countless customer projects in almost all industries, we know that there are no off-the-shelf solutions. Our experts will work with you to find the right approach for your individual requirements – whether it's optimising existing energy systems or switching to other forms of energy.
At Linde, you will also find a broad portfolio of future-proof technologiesthat enable you to operate economically and productively, while at the same time meeting the pressing demands of sustainability:
Always the right choice
Fuel cell, lithium-ion technology or modern lead-acid batteries as an option for almost all warehouse trucks and electric forklift trucks
Everything from a single source
Battery systems and chargers are optimally matched to the trucks, ensuring energy efficiency and high availability
Minimise emissions
The latest generation of IC trucks surpass emissions regulations and are approved for use with hydrogenated vegetable oil (HVO) fuels in addition to diesel, LPG and CNG.
Electric in every application
Power and robustness without exhaust fumes and engine noise – the electric X-models from Linde easily cope with the toughest operating conditions.
E-power without end
Electric alternative even in heavy-duty applications – heavy-duty electric forklift trucks up to 18 tonnes, with lead-acid or lithium-ion battery options available
The best of both worlds: X-treme Power, X-tra sustainable
Many companies rely on the classic combustion engine truck thanks to its power and robustness. But times are changing: In the X models, we have developed electric forklift trucks that combine the load capacity and performance of our IC trucks with the flexibility and zero-emission operation of our electric trucks. Thanks to X, sustainability and performance are no longer contradictory – now also available for the load range from 3.5 to 5 tonnes!
Learn more about the X models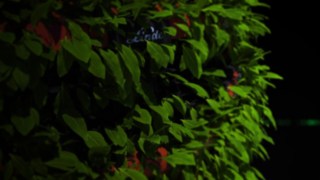 WELL ADVISED: STEP BY STEP TO THE RIGHT ENERGY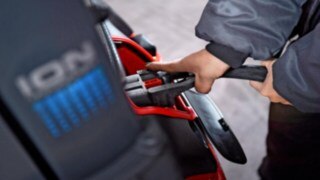 But having a range of solutions available also raises many questions: Which energy system fits my requirements? What does switching to another energy source or technology mean for my company? And how do I manage my energy consumption as efficiently as possible?
That is why the Green Performance approach goes far beyond trucks, batteries and chargers. Linde experts will help you to choose the right energy system for your fleet and to optimally align operational requirements, charging times and energy consumption as well as infrastructure when implementing the new solution.
Green Performance in action