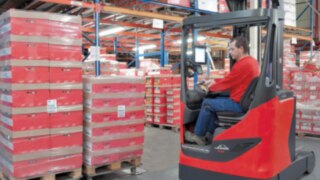 COVID-19 Status Update
Last updated – January 2021
Dear valued customers and business partners
Further to the announcement made by the Government on Monday 4th January regarding the need to limit work related travel and where possible work from home: We would like to assure our customers and business partners that Linde Material Handling will continue to support you throughout this difficult period with the commitment and professionalism needed to deliver on this responsibility.
Our team assisted our critical industry customers through the early initial peaks which placed incredible strain on their supply chains and we will continue to support the stabilisation of that demand as we begin a second UK lockdown.
Our support also extends to customers who may have to close their doors once again as a result of the latest Government announcement. We know that you continue to need our support, as it is vital material handling fleets are protected. Below you will see advice for caring for material handling equipment and batteries during extended shutdown periods. There is also further advice on other fleet health check support we can offer customers to help you prepare for any operational ramp up. For any further support or simply any advice during this time please get in contact with us.
We have undertaken risk assessments in all aspects of our operations with one key priority – keeping our employees safe by ensuring our facilities and processes continue to be 'COVID-Secure' and in line with Government guidelines. You will find a copy of our base COVID-19 inspection checklist document below.
Once again I would like to thank you for your understanding, support and confidence at this time.
Ulrike Just
Managing Director