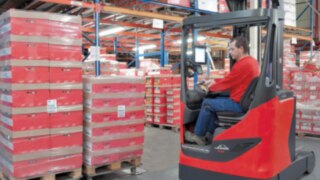 COVID-19 Status Update
Last updated – Thursday, 25th June 2020
Dear valued customers and business partners
I am pleased to say that Linde Material Handling continues to support all customers and business partners throughout this difficult period. Our team assisted our critical industry customers through the early initial peaks which placed incredible strain on their supply chains and we continue to now support the stabilisation of that demand. We support customers as they begin to restart operations and we also support those businesses that for whatever reason are not yet able to get back up and running. We have a duty to all of our customers and business partners, and I trust my team to continue in this support effort with the commitment and professionalism needed to deliver on this responsibility.
I am delighted too that we have been able to support many customers as they have continued to drive projects forward in their own businesses despite the current challenges faced. Throughout this time colleagues have quickly adapted – reviewing processes, risk assessments and method statements to ensure activities could proceed safely, in adherence to Government guidelines and importantly for our customers, on schedule. It is great to see these projects being delivered on time and to receive the positive feedback from our customers about the support we have provided during this period. It really is a credit to those colleagues involved who have demonstrated agility, flexibility and an unwavering commitment to providing excellent customer service at this time.
More and more customers are beginning to re-start their operations and it is important that they ensure their material handling fleets are safe and ready for work after the recent period of inactivity. We support all of our customers through this process giving businesses peace of mind that they can start to operate MHE safely and productively as soon as staff return. For further support or simply any advice during this time please do not hesitate to get in contact with us.
As well as recently announcing further relaxation of lockdown measures, the UK Government has issued detailed guidance for the majority of businesses, outlining how they can re-open safely. Although a large proportion of the Linde Material Handling team have remained active throughout the pandemic in support of our customers, we too are now beginning to reopen our facilities to colleagues who had previously switched to remote working. In order to achieve this we have undertaken detailed risk assessments in all aspects of our operations with one key priority – keeping our employees safe by ensuring each facility is 'COVID-Secure'. Although each location is unique, and as such has its own risk assessment, you will find a copy of our base COVID-19 and inspection checklist document below.
Before commencing the process of bringing colleagues back into our facilities, we are familiarising each with these risk assessments along with our own operational guidance documentation for safe return to operations. In doing so we can support all key stakeholders in this process. It will give me great pleasure as a result of this team effort to be able to welcome my colleagues back.
Once again I would like to thank you for your understanding, support and confidence at this time.
Max Sammartano
Managing Director