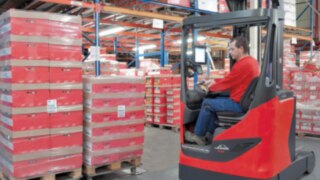 Truck and Battery Storage
To prevent damage to a traction battery during a long period of storage, here are some simple rules:
Disconnect the battery from the forklift truck to avoid any drain on the battery
Fully charge the battery to 100%
Modern Smart chargers will automatically equalise the charge between cells in a battery during charging and then automatically switch off when it is fully charged. Thus, the battery can be left connected for long periods without harm to the battery
Regularly check the state of the charge of the battery - in the case of older manual chargers to prevent deterioration or damage to the battery, an equalisation charge will need to be performed at least every month, possibly more frequently on older batteries.
Please also consider the implications should your site power supply have been isolated due to any site shutdown as this will prevent even modern chargers from protecting the condition of your batteries by applying a periodic equalising charge.
Care methods for long-term battery storage
Storage of forklift and warehouse trucks for periods of less than two months
Precautions should be taken if a forklift or warehouse truck is not to be used for an extended period ie up to two months :
Where possible, position the truck in a clean, dry, well-ventilated area with no risk of freezing
Clean the truck carefully and allow to fully dry off Check the hydraulic oil level and fill, if necessary, with the correct grade of oil
Lower the forks (masted trucks) onto a suitable support (eg a pallet) until the chains are slack
Remove the starter battery from the truck and charge it at least once a month – see separate advice on storage of traction batteries
Coat any unpainted metal parts with a thin layer of oil or grease
Grease all hinges and joints
Spray electrical contacts with a suitable aerosol product
Raise the truck on chocks to avoid flat spots on the tyres
Cover the truck with a cotton cover to protect it from dust. Avoid using a plastic sheet.
Safety advice
Forklift and warehouse trucks must only be operated by qualified personnel
Do not attempt to carry out technical interventions for which you are not qualified or if you do not have suitable equipment or materials
For advice and assistance, please contact your local Linde Material Handling depot.
Equipment Inspection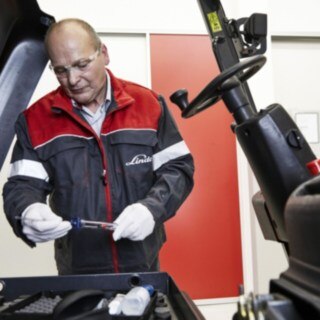 Check MHE Equipment Regulations
It is vital to check that your material handling equipment maintenance and thorough examination inspections are upto date to ensure you comply with appropriate legislation (PUWER & LOLER Regulations). These responsibilities should not be overlooked even during a shutdown, so it is vital that these inspections are factored into the preparation stage of any operational ramp up.
You will find some helpful guidance issued by the Health and Safety Executive (HSE) outlining your responsibilities.
Carrying out thorough examinations during COVID-19
Operator Training
Operator training records should be reviewed and factored into your ramp up planning
Certificates of training specify a date by which refresher training should be undertaken. In the current climate this may make it difficult for operators to renew/maintain their training certificates.
The Health and Safety Executive (HSE) has issued guidelines for businesses where requalification cannot take place.
HSE Statement Operator Training Certificates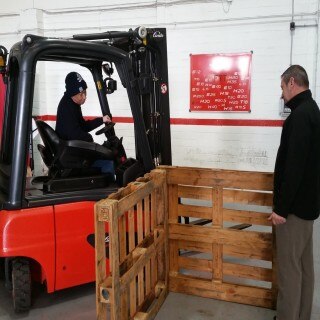 Maintenance Support
Ready to support customers
Linde Material Handling is ready to support all customers and MHE fleet users during these challenging times. We can offer the following fleet health check support to assist customer's in navigating this uncertain period and to prepare for any operational ramp up:
Truck hours check
Equipment condition report
Preventative maintenance recommendations
Battery condition monitoring
Battery cleaning
We are also able to offer flexibility of customer support during this unprecedented times to assist customers with managing both their MHE fleet responsibilities and respecting the need to adhere to Government guidance on social distancing. These solutions include:
Calling forward planned preventative maintenance execution prior to ramp up to maximise fleet availability during your recovery period
Reduced risk maintenance/intervention visits (outside normal operational hours if site access permits)
Offsite MHE workshop recovery and repair/servicing at our UK wide sales & service centre facilities – this can include service + preventative maintenance work arising, Thorough Examination, truck steam cleaning etc.
LMH UK & Ireland Business Continuity Plan
All Linde Material Handling business functions remain fully operational and contactable via your normal communication channels
Our commercial relationships are maintained
Our short-term rental service remains fully mobilised and our teams are actively dealing with all increased demand placed on it currently by critical industry sectors
The sale and delivery of spare parts remain fully operational
Service engineers remain operational in the field. You can therefore continue to log requests for service engineer support via your normal channels
Priority is given to the repair and maintenance of equipment in critical industry sectors
For on-site interventions, we have developed specific guidance for our service controllers and service engineers to ensure the health and safety of our service engineers, customers and business partners alike
Fundamentally, we insist that access is granted for our service engineers to your on-site hand hygiene facilities as per the infection control measures issued by the WHO
Secondly, we insist on the necessity to respect all current social distancing guidelines whilst our engineers are on site