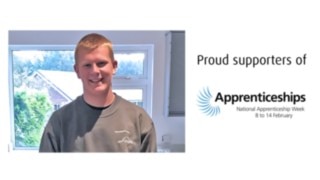 Meet the Apprentice Engineer who started a career in the middle of a pandemic
09-Feb-2021
A first-year apprentice engineer from West Horton says starting his apprenticeship during a pandemic was strange, but he's happy to be working.
A first-year apprentice engineer from West Horton says starting his apprenticeship during a pandemic was strange, but he's happy to be working.
From hands-on subjects at school to tinkering in his garage at home, James Stout, 16, had always enjoyed fixing things. So, when he saw how happy his stepdad was working at with Linde Material Handling UK, he decided to apply for an apprenticeship there.
James said: "When the pandemic hit, I wasn't sure whether I'd still be able to start my apprenticeship. It was something I'd always wanted to do, so I would have been gutted if it had been delayed for a year. I was thrilled to find out that Linde was still taking on apprentices as normal, and that I wouldn't have to put my future career on hold. It was strange starting a new job during a pandemic, but I'm really happy to be working and getting that first leg up on the career ladder."
James began his apprenticeship at Linde's Warrington site in September 2020. He continued: "I've always been happiest in a workshop environment. At school I was always better at practical subjects like design and technology, and I've spent quite a bit of time in the garage at home working on bits and pieces. I've even done a bit of welding; all of those skills are proving really useful on my apprenticeship.
"My stepdad works for Linde, and he loves it. Growing up seeing how much he enjoyed his job had a big influence on me, everyone wants to do something they love, so it was always obvious to me that I was going to apply to do my apprenticeship with Linde as well and follow in his footsteps.
"Since September I've had the opportunity to spend time in a few different departments – stripping trucks, prepping trucks to go to new customers and forklift servicing. The servicing has been my favourite part so far, I really enjoy working on faulty or damaged trucks and getting them back to full working order.
"My hope is to carry on working my way up with Linde and eventually become a fully qualified forklift engineer. I like the idea of being a field engineer and travelling across the UK to visit customers and work on their trucks in their warehouses or on sites."
James is one of 21 apprentices who started work at Linde during 2020, bringing the total number of apprentices working at Linde to 75.
Shelley Brown, training and apprenticeship manager at Linde Material Handling, said: "At Linde, apprentices really are the grassroots of our organisation. Apprentices like James, who join us right at the start of their careers and work their way up, will have good chances to be leaders one day within the organisation training the next generation of Linde employees.
"That's why, despite the challenges of the past year, we were delighted to be able to continue with our apprenticeship intake as planned and offer placements to 21 enthusiastic young people who are keen to learn and progress with us."
Linde's industry leading apprenticeship programme teaches a broad range of skills and theory needed to service and repair a large range of forklift trucks. It allows young people to gain valuable industry experience which enables them to develop their professional and personal skills while also gaining a formal qualification.
Each year, apprentices spend five weeks at the Fork Truck Training Centre in Swindon where Linde donated five Linde trucks to make sure all apprentices build a comprehensive knowledge of its products.
Apprentices also have the opportunity to expand into other areas of the business using their transferable skills gained within the apprenticeship scheme.