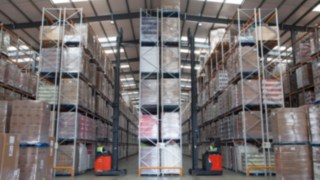 In safe hands with Dynamic Mast Control
08-Dec-2017
Conveniently located based beside the A11 dual carriageway at Snetterton in South Norfolk, Johnston Logistics offers a full range of third party logistics services in its 130-acre site with 640,000 sq ft of ambient warehousing facilities.
Johnston's success is a result of developing long term relationships with their clients and suppliers, one of which is leading materials handling manufacturer, Linde Material Handling. Operating a fleet of Linde trucks for the past 30 years, Johnston's have always purchased their trucks outright. Rob McIndoe, Finance Director at Johnston's commented 'We deal with trusted supplies and I regard Linde as one of those.'
The fleet at Johnston's consists of most model types ranging from Very Narrow Aisle trucks, reach and counterbalance, right through to ride on pallet trucks, which are continuously on the go moving around 350 pallets a week. Johnston Logistics store anything and everything from grass seed to fitness equipment and everything in between.
The reach truck fitted with Dynamic Mast Control (DMC) was delivered 8 months ago and feedback from the operators has been extremely positive. In addition to DMC, the reach truck is fitted with an on-board camera. Andy Sherriff, one of the operators commented, "The on-board camera enables me to position the forks on the very top rack without looking up, which really reduces the stress and strain on my back and neck."
When lifting to heights above 8 metres mast oscillation will occur and lower the operator's efficiency and productivity. The operator has to wait until the mast oscillation has subsided before completing the storage or retrieval cycle. Linde's Dynamic Mast Control with Electric Reach system counteracts mast deflection and oscillations generated during the lifting process resulting in a more efficient, safer operation.
Rob continued "The reach truck lifts to just over 10 metres, it was the stability at height we needed when handling wine, not just for safety, but also efficiency, that's why we chose Linde's Dynamic Mast Control."