Unconventional Idea Makes Picking At Up To 17.7 Metres Possible
An inspiring debut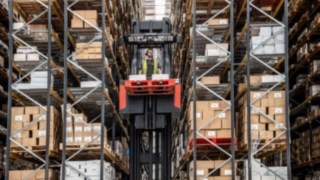 How can you pick as ergonomically as possible at heights of up to 17.7 meters? One solution could be the clever combination of the Linde K truck and Linde V modular . One provides the necessary lifting height, while the other is designed for maximum picking performance. A visit to Hachette UK's distribution warehouse near Oxford shows just how excellently this unique concept works.
More than 18 million books are stored in Hachette UK's distribution center, which is one of the world's largest mail order warehouses for printed material. Everything from bestsellers to timeless literary classics and children's books: The 37 shelving aisles contain practically everything and are bound to get the avid reader's pulse racing. Smooth shipping is guaranteed by over 200 employees. Working in two shifts, the workers store the pallet-loads of books delivered by the publishers in the 66,000 picking areas or pick individual orders directly from there.
Shelves: the higher, the better!
The cornerstone for the distribution center that has become so successful was laid back in 2018. "When we were planning the warehouse at the time, the first question was just how high can we go?" reports Marc Travers, Director of Operations, Hachette UK Distribution, looking back. After all, the available floor space of over 37,000 square meters had to be utilized to the greatest possible extent—and this inevitably led to vertical solutions, not least for cost reasons. The fact that Linde Material Handling had presented the then new Linde K man-up turret truck for stocking and retrieving on high shelves and picking at heights of up to 18 meters, at almost the same time, was a very fortunate coincidence. "We took a look at the machine at a pilot customer in Germany and knew immediately: our shelves would also be 18 meters high and the Linde K truck would be a perfect fit for our full pallet storage," Travers explains further.
Picking at a height of up to 18 meters—is that even possible?
But was the Linde K truck actually capable of manually picking individual boxes all day long? These weigh 10 kilograms on average. All involved quickly agreed that, ergonomically speaking, a different solution was needed. "After all, 98 percent of all our picking orders are individual picks, which is a really tough job because of the weight of the books," Travers points out. A look at the Linde product portfolio revealed the perfect truck for use at Hachette—the Linde man-up vertical order picker Linde V modular. "Thanks to its design, drivers particularly benefit from the low railing when placing the boxes with the books on the pallet," Travers continues. But there was a problem: The maximum gripping height for this truck was only 14 meters (as a customized option; standard is 12 meters)—and Hachette's specifications now called for 18 meters of shelf height. "So we asked Linde if it would be possible to put the V modular cab on the K truck. A new truck specifically for our site, as it were," explains Travers.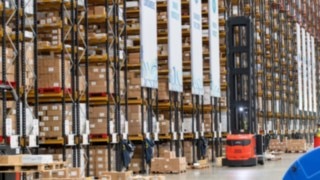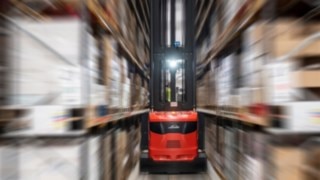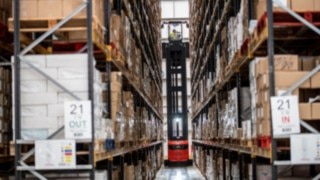 Fusion: From the Linde K and V modular, the Linde KV was born
Linde would not be Linde if it had not immediately set about implementing this individual customer request. And so, just eight months after the idea was conceived, eight of the to date unique "hybrid trucks" created from the Linde K and Linde V modular were put into service at Hachette. "The large cab with its low railing and the lateral tilt barriers of the hybrid truck enable us to pick directly next to the pallet, even at this extreme height. At the same time, the distance from the driver to the pallet—and thus to the place where the packages weighing an average 10 kilograms are deposited—has been reduced by 80 centimeters. This has allowed us to increase our work speed enormously and we are about 15 to 20 percent more productive now when picking orders than we were using the classic Linde K truck. We couldn't ask for more," confirms Travers.
Stocking shelves with full pallets continues to be handled by the classic Linde K trucks, all of which are induction-guided and equipped with Linde Dynamic Reach Control. "Thanks to this assistance system, jolting and swaying when handling full pallets are a thing of the past—and our employees can set down loads quickly, safely, and comfortably," concludes Travers with satisfaction.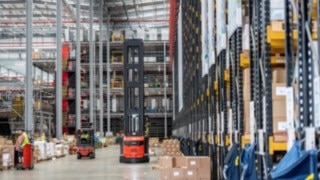 Hachette UK Distribution
Hachette UK Distribution is part of the Hachette UK publishing group Hachette UK. Historically, the company had two distribution centers, LBS and Bookpoint, and these were joined by the new Hely Hutchinson Centre (HHC), which opened on August 20, 2018. HHC is one of the most advanced distribution centers in Europe, with leading-edge automation and modern systems that ensure world-class service to customers and publishers. Hachette provides comprehensive distribution services to over 20 publishers, many of which are third party clients from outside the Hachette UK group. Hachette UK Distribution ship in excess of 64 million books globally each year and supply one out of every four books to the UK trade.