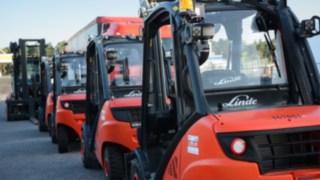 As with any purchase over the internet, caution must be taken, however a piece of equipment such as a forklift truck adds in further complications and considerations. There are certain critical criteria that should be taken into account to prevent a costly mistake or potentially more serious consequences
First, what make of truck should I look at?
Not all forklift trucks are equal as some will naturally age better than others. Choose a well-known reliable brand that has a reputation for longevity and reliability.
Opting for a reliable manufacturer improves the resale value of the unit and you can expect these trucks to have far fewer and less costly problems during ownership of the truck. Selecting the right local service provider is just as important as the truck itself, you need a reliable partner that can service, repair and obtain spare parts quickly and easily. Therefore, you should ensure that the supplier is easy to contact and that they have local coverage in your area.
What truck do I need for my application?
For this, you may need some help. The best approach is to consult the manufacturer, who will advise you of which truck, capacity, mast type and power type is most suitable for your application. A supplier should be able to provide you with a product which suits your application needs. This will mean a site survey by the supplier, a service unavailable from companies/individuals who are entirely reliant on the internet to sell their products.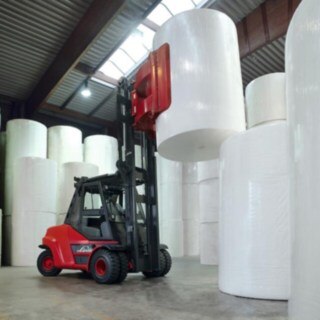 'Refurbished'? What does that mean exactly?
The age of the truck and the type of application it's been used in, will obviously have an impact on the amount of refurbishment that is required. However, some companies will use a system whereby a minimum level of refurbishment is completed as standard, with additional levels available as required by your needs. A supplier should be able to clearly state what has been done exactly to the truck - which should be more than a quick coat of paint.
Always ask to see the truck's current LOLER certificate (sometimes called a 'thorough examination'– it is a legal requirement for every truck). However the LOLER certificate is like an MOT for your car, this certificate does not check for all potential problems, and some areas like the engine are completely uninspected, but it is a vital basic check for key safety areas like mast and lift chain condition.
Buying through a third party and buying on-line, as opposed to purchasing direct from the manufacturer, can mean you will have little if no knowledge of the truck's history.
How old is too old?
Just like buying a car, buying one with a full-service history ensures it will be more reliable as it has been maintained correctly. A full-service history will not only confirm the truck's age but will also confirm the number of hours the truck has worked. The hour meter on a forklift truck (like the odometer on a car) tracks the use of the truck.
The hour meter can be checked, but as with cars, these can be tampered with, so is not a guaranteed measure and therefore it is vital that you obtain a full service history with the truck.
Buying through a third party, and buying on-line as opposed to purchasing direct from the manufacturer, can mean you will have little if no knowledge of the truck's history and also how many times it has changed hands.
Is it legal?
A truck serial number can reveal a trucks true identity. This can be checked directly with the manufacturer and will confirm whether the truck is with its rightful owner.
If you are in any doubt about a truck's condition ask the manufacturer to inspect the machine on your behalf. After all the manufacturer of the equipment has the expertise and knowledge to tell you if the condition of the machine is in line with what is being advertised.
Conclusion
If you are buying a used forklift do not be forced into to making a decision on a piece of equipment you have not seen, tested or had inspected. Especially when bidding on-line there is a tendency to get swept up in the whole bidding process by concentrating on winning the bid and forgetting what you were after in the first place - a reliable and cost-effective forklift truck. Forklift trucks are not commodities and invariably a business will be heavily dependent on the reliability and performance of the machine to ensure that their operation runs to the best of its capabilities.