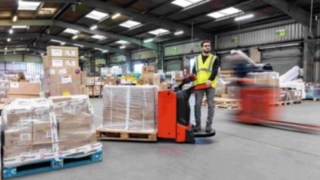 Efficient entry-level models for transport as well as loading and unloading operations
2 Aug 2023
A versatile, compact pallet truck with foldable operator platform from Linde MH
With the Linde T16 P to T20 P models, Linde Material Handling (MH) is launching two new compact pallet trucks with a foldable operator platform. Offering 1.6 and 2.0 tons load capacity, respectively, and a width of just 720 millimeters, the vehicles are designed for use in a wide range of applications and are ideally suited for working in confined spaces. Thanks to speeds of up to 8.5 km/h, gradeability of up to 20 percent, and new comfort and safety features, they enable efficient fast transportation of goods over short and medium distances as well as loading and unloading operations. The pallet trucks are available with a choice of either lead-acid or the latest generation of lithium-ion batteries. Fleet management and connectivity ensure productive operation and effective service.
"Confined spaces present a particular challenge when it comes to loading and unloading trucks as well as in adjacent goods distribution areas," says Peter Klug, Product Manager Warehouse Technology Germany at Linde MH. "When operating between closely-spaced pallets on the truck loading area or along unclear routes through cargo handling zones, drivers need to have their equipment one hundred percent under control. Accordingly, they appreciate compact, ergonomic vehicles that enable them to work safely and quickly," explains Klug. With the Linde T16 P and the Linde T20 P, there are now two newly developed vehicles available for the fast movement of goods at the truck ramp and over short to medium transport distances. "The foldable platform allows employees to drive the truck, which saves time and energy. Wherever pallets must be maneuvered with centimeter precision, the platform and side bars can be folded back up in no time at all," explains the product manager. In the Linde portfolio, the Linde T16 P and T20 P models are the link between pedestrian-only vehicles and the recently introduced, high-performance models with foldable or fixed stand-on platform: Their performance is designed to meet the requirements of light to medium-duty applications, while at the same time featuring premium comfort and safety equipment. Additionally, the new trucks are available with various energy options and state-of-the-art on-board electronics and connectivity equipment.
Customized for specific applications
The 1.3 kW three-phase AC motor accelerates the vehicles to a maximum speed of 8.5 km/h; however, speed limits can also be set via various parameters. In difficult situations, the automatic booster effect provides higher torque when additional power is needed, e.g. when driving out of a pothole or pulling out a foil-wrapped pallet that is stuck in the truck. On slopes, the pallet trucks have plenty of reserve under their non-deformable engine hood thanks to gradeability of 15 percent (Linde T16 P) and 13 percent (Linde T20 P) when loaded, and 20 percent when unloaded. Furthermore, the electric steering system allows smooth and precise control even under full load, while the five-point contact configuration with a centered drive wheel and sprung castor wheels keeps the unit stable during transport. Optional integrated onboard chargers free drivers from having to rely on fixed charging stations.
Increased comfort and safety
Additionally, the trucks offer further optimizations with regard to safety and comfort. The sideguards, which keep the operator safely within the chassis contours, are more robustly designed and padded on the new models. The special Linde tiller head now has an activation angle of 65°, which is convenient for drivers with shorter stature. The stand-on platform has been enlarged to 663 millimeters and, with a height of 162 millimeters, allows easy access for the driver. Suspended and made of non-slip rubber, it also dampens vibrations and shocks, thus creating the basis for fatigue-free working. A new option is the metal accessory bar, to which work lights, scanners or the Linde Blue Spot can be attached. Another equipment option is the load guard which prevents the load from sliding toward the operator.