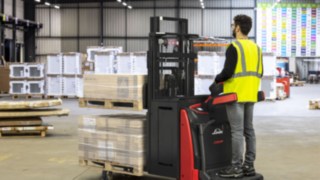 Productivity boost at the ramp
11 Jul 2023
New pallet trucks, pallet stackers and double stackers from Linde Material Handling for efficient loading and unloading operations
With ten technically improved models of pallet trucks, pallet stackers and double stackers, customers of Linde Material Handling (MH) can now make their loading and unloading processes even more productive. In all model variants, the stand-on platform is decoupled from the chassis as standard to protect operators from vibrations and impacts. An innovative swivel castor system provides additional stability during transport and load handling. Offering more advantages such as travel speeds of up to 14 km/h, a further developed, ergonomic power steering, and innovative safety and energy solutions, the trucks make a noticeable contribution to increased handling performance.
"Goods in and dispatch are the warehouse areas associated with the most demanding tasks in the intralogistics flow of goods," asserts Peter Klug, Product Manager Warehouse Technology, Linde Material Handling. At these interfaces of internal and external logistics, especially at peak times, many people and industrial trucks work simultaneously in a limited space, moving large quantities of goods. To ensure that everything runs smoothly and, above all, safely between truck ramps, docks, containers and storage areas despite considerable time constraints, the equipment must be precisely designed to suit operators' requirements. What is needed are powerful, ergonomic and safe vehicles that are service-friendly and digitally connected. "The new Linde models with fixed and folding driver's platforms are geared towards meeting these high customer demands," states Klug.
A unique product on the market
"The design of the SP model versions with a fixed driver's platform is a truly unique selling proposition throughout the industry," Peter Klug explains. A characteristic feature of the 2.0- and 2.5-ton capacity pallet trucks (Linde T20 SP and T25 SP), 1.4- and 1.6-ton capacity pallet stackers with a maximum lifting height of 5.3 meters (Linde L14 SP and L16 SP), and 1.2- and 1.4-ton capacity double stackers (Linde D12 SP and D14 SP, and Linde D12 HP SP) is the steel apron that extends far around the driver's platform. It keeps the operator within the vehicle contour, provides a stable, padded backrest and effectively protects against injury in the event of jostling and collisions. Another notable feature is the slightly rotated position of the operator who stands at a 45° angle to the direction of the forks. This allows him to keep an eye on his surroundings in any direction of travel without having to change his body position or turn his head. This relaxed posture not only aids in driving maneuvers during day-to-day operations, but also prevents tension and long-term health problems in the back or neck area.
While the SP models with fixed platform are designed to frequently cover longer distances, the AP models demonstrate their advantages in narrow areas that are difficult to access. For example, to reduce the turning radius in very tight spaces, the stand-on platform of the Linde T20 AP and T25 AP pallet trucks (with load capacities of up to 2.0 and 2.5 tons, respectively) and the Linde D12 HP AP double stackers (with a load capacity of up to 1.2 tons) can be folded up. For a higher level of safety, the creep speed function can be activated which adapts the travel speed to the tiller's angle of inclination.
Power for loading and transporting goods
Both the models with fixed and folding driver's platform are optimized to deliver maximum performance. A 3 kW three-phase motor enables the vehicles to accelerate up to 14 km/h without load. To effectively absorb vibrations and shocks caused by uneven ground, the driver's platform and the tiller are decoupled from the chassis as standard on both AP and SP trucks. This unique feature is exclusive to Linde. It offers the advantage that drivers stay alert and focused for longer and their health is protected in the long term. Additionally, an innovative castor system has been developed to keep the load as stable as possible on the forks. Large swivel castors with shock absorbers compensate for vibrations and automatically adapt to the driving situation and speed. This ensures a high level of safety and increases productivity.
If particularly high power is needed on the ramps, the High Performance (HP) double stacker models come into play. They offer high travel and lifting speeds, while at the same time featuring a stable 5-point configuration with a centered drive wheel, and either mechanically sprung or hydraulic castor wheels.
New options for individual customer requirements
The SP version models are equipped with another safety feature: the Linde Feet Detection assistance system. As soon as the driver's feet leave the sensor-protected area, the truck slows down in a controlled manner. To alert pedestrians and other drivers of an approaching vehicle, the SP versions offer the newly integrated "Linde BlueSpot" warning light emitter. Both the SP and AP models will feature a new module of the "Linde connect" fleet management solution from next year: "Zone Intelligence" allows individual zones to be defined. If a vehicle enters a defined storage area, the travel speed is automatically reduced.
Wide and deep storage compartments, which can be used to store wrapping paper, work gloves, writing utensils etc., ensure effective workplace organization. The range of holders has been expanded once again to keep the necessary work materials close at hand. Another new option is the color multifunction display. Thanks to the higher contrast, information on operating hours, battery status and maintenance status is clearly visible even in difficult lighting conditions.
New, so-called trough batteries have been designed for both lithium-ion and lead-acid batteries so that customers can choose and retrofit as they wish. Integrated on-board chargers are available for both battery options.
The digital vehicle architecture enables predictive maintenance, and new functions can be added to the vehicles at any time via software updates. Finally, all data can be transparently managed via the digital twin.