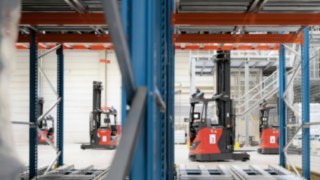 Sustainable housebuilder grows business thanks to Linde MH trucks
27 Jun 2023
Contract forms part of TopHat's UK expansion plans to distribute nearly 5,000 modular homes annually
Innovative modular housebuilder TopHat will become one of the first UK customers to operate automated versions of Linde Material Handling's successful range of reach trucks.
Four automated forklifts – along with eleven further pieces of material handling equipment – are part of a comprehensive product storage/movement solution that will serve TopHat's new 650,000 sq ft facility at Corby, Northamptonshire.
The lean manufacturing and distribution centre will be the centrepiece of the Magna Park site being developed by GLP, a global leader in logistics developments.
TopHat, which has just raised £70 million from new and existing shareholders, including FTSE 100-listed housebuilder Persimmon and institutional investor Aviva Capital Partners, expects to be delivering up to 16 sustainable modular homes per day from Corby by the end of this year.
Linde MH's intralogistics team helped in the design of the Corby site by simulating the future operation and confirming the exact quantity and type of equipment required.
The turnkey solution encompassed bespoke Combilift trucks, Linde counterbalance and ride-on trucks, and specialist racking systems to ensure safe handling and storage of loads, from rolls of insulation to fully built housing modules. The automated R-MATIC reach trucks allow the site to store pallets up to 11m high, while automated L-MATIC counterbalance trucks shuttle materials around the factory
With their unique image recognition software and 3D cameras, the automated trucks can identify the load position with unparalleled accuracy, allowing pick-and-drop rates of just 66-85 seconds.
The automated trucks also employ intelligent safety features, with sensors at floor level automatically detecting people, obstacles and other trucks to create a 360-degree safety field.
TopHat is a privately owned business which employs nearly 300 people producing the greenest new homes being built at scale in the UK today. It can already deliver 800 homes per year from its existing manufacturing centre at Foston, near Derby.
The new facility will bring together the latest robotics and TopHat's proprietary technology to manufacture and distribute up to 4,000 homes annually.
Will Woods, Supply Chain & Logistics Director at TopHat, said: "The team from Linde have been great to work with from the start. The scale of operation in our new factory and the nature of loads to be handled meant we were looking to source a broad fleet from AGVs, large capacity Combilift trucks, through to straddle carriers.
"The team have been able to offer a full solution including layout and variety of racking options and I'm looking forward to working with them on the implementation."
TopHat expects to create 1,000 green economy jobs in its new factory across a wide range of roles and plans to establish a training academy in partnership with local colleges.