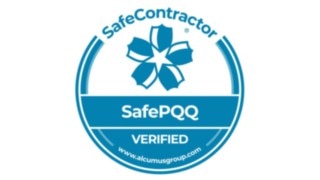 Setting the bar for safety
16-Feb-2022
Linde Material Handling (UK) have been awarded additional Gold Standard PQQ accreditation from Alcumus SafeContractor for achieving excellence in health and safety in the workplace.
A PQQ is a pre-qualification questionnaire which is given to a contractor by a client and is used to assess the capability of that contractor. Before being awarded work by a buyer organisation, contractors are frequently asked to complete multiple PQQ's to assess their capability as part of a client's tender process which can contain questions about several compliance related topics dependent on the client's needs and the nature of the work being undertaken.
Completing multiple PQQs can be a time-consuming task and keep contractors away from their core business on site. SafePQQ saves time and money by enabling this information to be submitted in one go, on one online platform, once a year.
SafePQQ is an extension of the SafeContractor health & safety audit that demonstrates a commitment to best practice and has been built to include the common question sets. SafePQQ collects information and verifies businesses against key business sustainability topics, including Finance, Environment, Quality Management, Equality, Modern Slavery, Anti-bribery, GDPR, Right to Work, Building Information Modelling, and References.
Alcumus SafeContractor is a leading third-party accreditation scheme which recognises extremely rigorous standards in health and safety management amongst contractors. It is used by thousands of organisations in the UK including SMEs and FTSE 100 companies.
Alan McEnteggart, Director - National QHSE from Linde Material Handling (UK) commented: "Health and safety is at the core of everything we do, so understandably, we are delighted with this additional Gold Standard PQQ accreditation. Our commitment is to raise the standard for health and safety within in our industry sector."