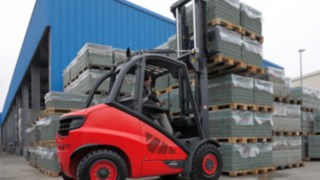 Linde build a safer solution for Forticrete
8 Dec 2017
When leading manufacturer of building materials, Ibstock Building Products, required a solution to guard against accidents and improve the amount of warning to their operators, they turned to materials handling manufacturer, Linde Material Handling for help
After experiencing major health and safety incidents across sites in mainland Europe, it was decided by the Chief Executive of Ibstock Building Products to control speeds of reversing forklifts.
Linde worked very hard with their design engineers in Germany who came up with an ultrasonic system which they developed and tested extensively.
This system initiates a slow-down, starting at three metres when the system on the truck will detect an object (the detection zone). At two metres, if the operator continues to back towards the object it will start to slow the truck down, until the one metre zone where the truck will be operating at just one kilometre per hour. An audible and visual warning to the operator also ensures he is aware there is an object behind or to one side of him so appropriate action can be taken.
"Since the development of this system, we have had no incidents whatsoever with fork lifts coming into contact with humans, or any significant damage to products" commented Jox Fox, Group Procurement Manager for Ibstock Building Products. Ged Smith, Forticrete's Operations Manager added "There is a consistency and smoothness in our operation that isn't hampered by unnecessary damage to the trucks. "
Joe added, "We have now had this system for over 6 years. No other UK materials handling manufacturer have got anywhere close as far as we are aware to developing something that mirrors the Linde system and on that basis we are quite happy to move forward with them."
Product Manager David Bowen from Linde commented "This has not just been a relationship between two companies, this has been very much a personal relationship, we've all worked together to contribute towards the system we have today.
Safety is one of the core brand values of Linde and as such there will be many other developments of safety systems in the future."