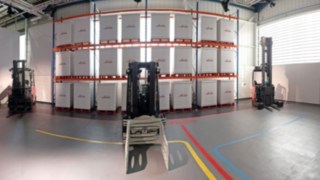 Linde Material Handling UK unveils state-of-art demo theatre
12 Jun 2023
Linde Material Handling (UK) has opened a purpose-built demonstration theatre to showcase the full range of its trucks and their capabilities.
The latest automated products to be launched in the UK market attracted particular interest from more than 40 customers and visitors who attended the event at Linde MH UK's site in West Bromwich.
All were treated to 'live' demonstrations of the latest trucks and technology and had the opportunity to ask questions of experts from across the Linde MH business.
David Woodward, senior director, Linde Region Central, said: "We've been able to see three automated guided vehicles in action along with the first R-Matic in the UK. The feedback has been very good."
Lee Whiting, chief operating officer of supply chain solutions specialist Oakland International, said: "Looking at the automation here today, it's at the next level, giving us what we need as a business of the future."
The refurbished facility includes a new reception area, including history wall, alongside the new, state-of-the-art demonstration theatre.
Christophe Lautray said: "I see automation basically everywhere in the future, not only at large customers but also with small and medium-sized businesses. Automation is really our future."
See a short video from the event here: