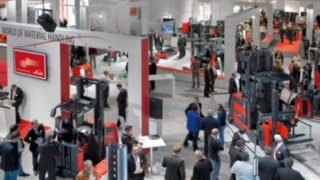 Linde Innovation Roadshow
Take the wheel at our 2022 Innovation Roadshow!
Don't miss out, book your place at our 2022 Innovation Roadshow and be one of the first to experience our latest products!
Over the past months we have launched a number of next-generation products which we would like to share with you. Throughout October and November we will be coming to a location near you, so don't miss out!
Experience a new steering concept
Discover how steering a forklift truck can become even more ergonomic with the new Linde Steer Control system. Behind the name is a new type of electro-hydraulic steering system that does not require a classic steering wheel. The result? A more relaxed, productive operator.
Driverless transport in confined spaces
The C-MATIC automated mobile platform is ideal for transporting material over short and medium distances in confined spaces. The load can be picked up and set down together with trolleys that the C-MATIC can drive underneath. The mobile platforms navigate within the space using the QR codes affixed to the floor, stop automatically in front of obstacles, or drive round them.
Small truck, many options
Our latest range of pedestrian pallet truck models with capacities ranging from 1.4 to 2.0 tonnes. Models equipped with Lithium-ion compact batteries allow even better manoeuvring in tight spaces. Equipped with sensor-based foot protection, the trucks make work even safer.
Book your place today at one of our regional locations!