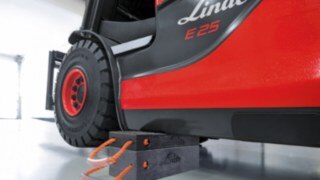 Super Elastic Tyres (sometimes referred to as Solid Tyres)
As part of your daily forklift checks, tyres are an important component to consider and should be regularly checked for signs of wear and damage. Some key areas to consider are the surface tread areas, the sidewalls and the point at which the tyre fits to the wheel.
Always aim to replace your tyres before they are worn to the J-Line (the wear line indicator on all Super Elastic tyres) as the tyre will degrade rapidly once on and beyond the J-Line.
Some frequently asked questions can help with the understanding of how tyres wear and what to look out for when inspecting the tyres:
What is the tyre tread pattern for?
Tread pattern is there not only to provide traction but to provide cushioning to protect the truck, its load and the operator.
Can I continue to use the truck when the tread pattern is worn?
So long as the remaining tread rubber has not reached the J-Line then yes, the forklift truck can still be used.
What if I see tyre damage i.e. impacts to sidewall or tread lug damage?
If damage is present then contact your forklift truck service provider to seek guidance on whether it is safe to continue using the truck, super elastic tyres are extremely resilient, but it is important that you isolate the truck until a professional assessment of the tyre has been undertaken.
How should tyres be fitted when worn?
Tyres should be fitted in pairs to maintain a level platform.
How do tyres wear out?
Heat is the major contributor to tyre wear.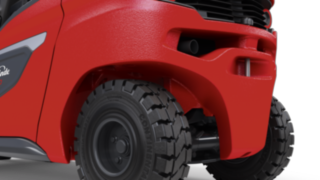 Advice & Tips:
Trucks running with no load will cause steer tyres to wear out quickly.
Trucks running with constant heavy loads are more likely to use more drive tyres.
When the tread pattern has gone, Continental's Super Elastic tyres, as fitted by Linde National Tyres, are only 50% worn, the remaining tread rubber compound ensures your forklift truck is still in a serviceable condition for continued use.
A tyre is worn when the tread rubber reaches the J-Line and should be replaced as soon as is possible.