So, is there a solution?
Unfortunately, there is no magic wand, we can all be taken by surprise with unprecedented demand. However, the following should be taken into consideration when identifying your truck requirements to ensure that your fleet is flexible and future-proof.
1. Establish the obvious
Could peaks in demand such as Christmas, Easter and Black Friday affect your operation? Consider how these peaks could affect your fleet requirements. Is there any flexibility in your fleet to cope with this demand? If not, does your materials handling supplier have the capability to provide extra trucks when you need them?
2. Consider the options
Extra trucks on site that are required for occasional use only could be used on a pay as you go basis. This ensures that you have the trucks you need on site, when you need them, but only pay for the hours you use. Extra equipment can be rented at short notice, however, consider that many other companies may be needing extra equipment at the same time as you, for example, seasonal peaks, so secure your trucks early! Rental trucks can be hired ad-hoc for as little or long as you need, but ensure your supplier stocks the truck type you need and can deliver when and where you need them.
3. Keep it simple
Having a smaller range of trucks in the fleet gives more versatility. Similar trucks can be moved onto different tasks easily when required. In addition, downtime of a particular truck proves less of an issue than with a niche truck in the fleet. Think about where the trucks will be used, will they work right across the site, consider door heights, aisle widths and load heights.
4. Mix it up
To ensure the best efficiency and cost-effectiveness of your operation, consider a mixture of owned trucks, pay-as-you-go and rental.
5. Do you have the energy?
During busy times, ensure you have the resources for demands on extra energy. Do you have enough spare batteries or enough fuel? Using Lithium-Ion? Can your supply support extra demand? These factors need taking into consideration if taking on additional equipment for peak periods.
6. What if things go wrong?
First, ensure you have an appropriate maintenance agreement in place. Keeping your fleet well maintained will prevent any major repairs and the subsequent loss of downtime. However, in the event of a breakdown or damage, you need to ensure that your materials handling supplier can be on site within a matter of hours and have the correct parts available to fix the problem. So, check where your service centre is located, what are their call out times and first-time fix ratios? Consider how downtime could affect the rest of your supply chain, how long can your truck afford to be out of action? On-site engineers could provide a solution to ensure maximum uptime for time-critical applications where there is no scope for any possible downtime.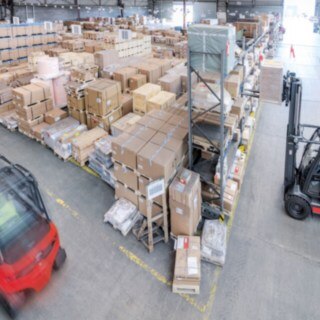 Need help?
Call us today on 0845 608 5000
or email us at enquiries@linde-mh.co.uk
We'd love to hear from you!