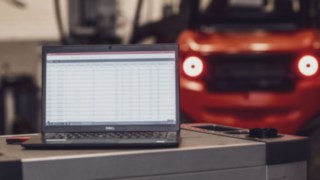 Right now, digitalisation is changing the world of materials handling. Fleet managers can have access to full visibility of their entire MHE fleet in real time to efficiently optimise their utilisation at the touch of a button. Paperwork and complex internal processes are a thing of the past with a digital workplace.
An intelligent fleet
When it comes to having visibility of your trucks and operators, fleet management systems can collect key data across multiple sites and make it available through intuitive reports. These reports can be analysed to take actions on operations, investments or safety.
Notifications can be configured to alert fleet managers by e-mail or text message of operator training requirements, if an impact happened on a truck, or if the MHE battery status is low. All the settings can be tailored to customer specific requirements.
Enhanced safety
Thanks to digital options such as PIN / RFID access to equipment, organisations can remain compliant under H&S regulations such as PUWER by programming their fleet to have specific authorisations for each operator – so any misuse is easily identified. Each truck can be configured for an individual operator, depending on the purpose of the truck, for example, a reduced speed can be implemented for a newly trained operator. In addition, before starting work, the operator can verify the condition of the truck using an App which can automatically notify any defects to the fleet manager and lock down the truck if the operator fails on a critical safety question.
Sustainability
An intelligent fleet is also good for the environment. Dedicated reports on battery charge status are available ensuring correct utilisation, which in turn extends battery life. In addition, log out timers can be set, particularly useful for IC engines to automatically switch off when the truck is not in operation, saving fuel and reducing emissions.
Digital servicing
Improved service planning increases truck availability and therefore uptime. Various Apps are available to support this communication process between fleet managers and their service providers. Using an App enables service requests to be sent quickly with qualified error codes increasing first-time fix rates.
Digitalisation fitted as standard
Linde's new counterbalance range are equipped to face a digital future as a standard feature. Fitted with data transmission, fleet management data can be transmitted to hosted servers via GSM network or WiFi. From operating hours to access control, all data from the truck is fed into the fleet management system allowing the optimal utilisation of the fleet.
It's evident that digitalisation is undoubtedly the future of materials handling. With so much data available at your fingertips and so many apps to help manage your fleet, the world of materials handling will be safer and managed more efficiently than ever before.