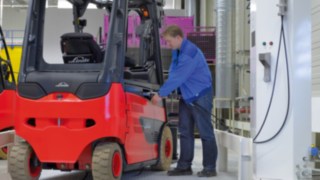 This month, we're exploring the world of energy. Our team interviewed Tracy Clarke, our Energy Sales Manager for the UK to find out more…
So, Tracy, what are the responsibilities of an Energy Sales Manager?
"My role is to support our UK and Ireland business with subject matter expert knowledge with regards to Energy Solutions. This involves supporting all areas of the business with tools, knowledge, training, site surveys and customer presentations required to provide a full Energy Solution Business Case to our customers."
What's new in the world of energy? Is everything just going electric?
"At Linde, we have a range of Energy Solutions to fit each customer application – LPG and diesel trucks using Linde's hydrostatic engine technology, hydrogen fuel cell as well as electric lead acid and li-ION technology. The key strategy to our Energy Solutions business is that there is not a 'one size fits all' approach. Each site application will work well with a particular type of Energy and it is important to consider each Energy Solution in line with operational, commercial and sustainability requirements. We are leading the charge with our Energy Consultant approach!"
How do customers know what energy solution is right for their business, aren't there lots to choose from now?
"Energy Solutions can sometimes be considered as a complicated topic and it is for that reason that we take a consultative approach at Linde. Our goal is not to push a particular type of energy solution, rather to match the right energy solution to the customer and make it straight forward for our customers to choose an Energy Solution."
"We achieve this by data driven analytical tools which replicate a customer's site application in detail and determines how one or more Energy solutions compare over a range of areas such as operational performance, future-proofing requirements, concerns over infrastructure requirements or charging / refueling processes, what the comparison is for operating costs versus investment costs to provide a full Total Cost of Ownership as well as CO2 comparisons. The customer then has a complete and impartial business case in hand to take to senior management clarifying which Energy Solution would be best for that site."
Is Lithium-ion just for indoor use?
"Li-ION is a viable Energy Solution for both indoor and outdoor use. In fact our electric X 20 – X 35 range of forklifts is so powerful it can compete with IC trucks even under extreme conditions, both indoors and outdoors and on all types of surfaces, making it a quiet and emission-free alternative to IC engine-powered forklifts."
We hope you found this interview helpful, if you would like further information on Energy, please chat with us on this page using our Chat function.
We look forward to hearing from you!