High performance – Reliable processes
The H25 – H35 IC trucks ensure effective load handling with their hydrostatic direct drive and high-torque engines. Together with the Linde Load Control lift mast control system, this significantly increases operating performance. This trucks really prove themselves in intensive, continuous use, as many of their components require no servicing at all, hugely reducing downtime. The operator benefits from the fact that the mast and drive axle are decoupled from the driver's cab, so only minimal vibrations and shocks are felt.
Characteristics
Safety
The Linde Protector Frame principle is based on a robust cab roof in conjunction with a frame that forms a secure cell for the operator. The good visibility afforded by the slim lifting mast also contributes to the operator's safety. What's more, the impressive lifting capacity at height, the truck's low-lying centre of gravity, and the quiet engine all bring additional safety to the operator's day-to-day work, while Linde Curve Assist mitigates the risk of accidents by reducing speed when cornering.
Linde Protector Frame
Linde Load Control
Good all-round visibility
Impressive lifting capacity
Low centre of gravity truck
Control redundancy
Ergonomics
The large operator's cab and the sophisticated, ergonomic operating concept of the H25 – H35 IC truck make a tangible difference to day-to-day work. The operator has an overview of all panels at a glance and can reach all control elements with little effort, while also benefiting from a suspension seat, good all-round visibility and smooth steering. Linde Load Control system also plays an important role in ensuring healthy working practices, putting control of all lift mast functions at the operator's fingertips. The mast and drive axle are decoupled from the chassis and operator's cab by rubber bearings, meaning only a minimum of vibrations are felt by the operator, allowing them to work fatigue-free for longer.
Large operator's cab
Ergonomic seat design
Reduced travel surface vibrations
Exceptional all-round visibility
Smooth and precise steering
Low operating noise
Handling
High performance, high torque, and millimetre-precise handling – three factors that the Linde H25 – H35 IC trucks combine to guarantee exceptional operational performance. The trucks carry out their duties quickly and smoothly, thanks to modern diesel, propellant gas, and natural gas engines, the Linde hydrostatic direct drive, and the Linde Load Control lift mast control joysticks.
Cost-effective engine technology
Hydrostatic drive for smooth, precise movement
Millimetre-precise, safe load handling thanks to Linde Load Control
Variable replacement pump for additional hydraulic functions
Service
The Linde H25 – H35 IC trucks impress due to low service costs and long maintenance intervals. For example, the engine oil only needs to be changed after 1000 operating hours, with the first drive belt replacement only required after 3000 hours. An innovative filter system means that the first hydraulic oil change is only necessary after 6000 operating hours. Several components, such as the drive axles, and the mast and tilt cylinder bearings require no servicing at all, while a new variable replacement pump is used in the lifting hydraulic system. The truck requires fewer engine revolutions to achieve maximum lifting speed, reducing fuel consumption and minimising wear.
Short downtime
Long maintenance intervals
Maintenance-free movement parts
Reduced auxiliary costs
Optional Equipment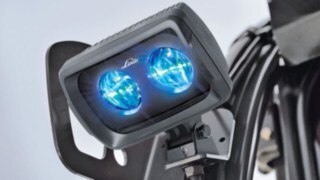 BlueSpot™
The Linde BlueSpot™ Enhances safety during operation as the LED spot makes the forklift truck noiselessly visible.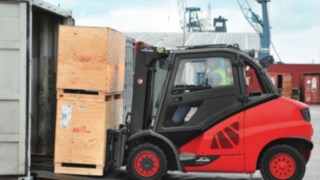 Container capability
The truck is just 2,220 mm high, allowing the operator to drive into standard transport containers for loading or unloading. These dimensions are vital for container terminal applications and wherever containers have to be handled.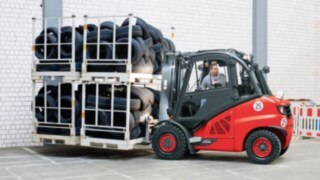 Rotating operator's work station
The work station within the cab can be rotated up to 90 degrees in the direction of travel, improving the operator' s vision and relieving strain on the musculoskeletal system.
Advanced comfort seats
Lumbar supports, heated seats, active seat ventilation, air suspension, and various adjustment functions are all available.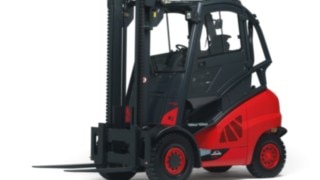 Beverage version
The workspace is now 400 mm taller, meaning the operator has a better view to the front despite a bulky load, and does not have to engage reverse gear. This improves productivity and safety in many industries, with the beverages industry chief among them.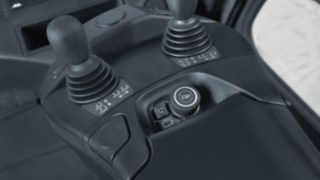 Linde Safety Pilot
In counterbalance forklift trucks, the use of the Safety Pilot helps to avoid tipping accidents.
Radio with CD player
The system will also play CDs containing MP3 and WMA files. It also features a built-in AUX input, for connecting devices such as smartphones.
Get a Quote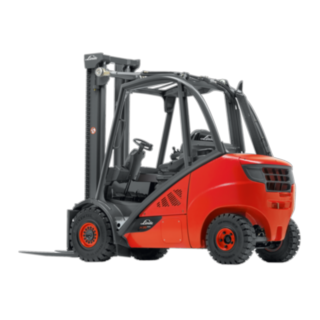 H25 – H35 EVO