Efficient handling of all logistics tasks thanks to a wide product range
The Linde R10 - R25-product line boasts a wide range of trucks for intensive applications in a range of industries particularly third party logistics and food and drink. The large number of model versions as well as the extensive standard and special equipment make it possible to perform a wide range of different logistics tasks. This includes mast heights up to 13.4 metre, narrow chassis for one-way shelving or the cold store protection able to operate at temperatures as low as - 30°C. In particular, the torsion-resistant lift masts as well as the optional electric linear drive with Dynamic Mast Control, which dynamically compensates for mast oscillation, makes these reach trucks ideal for safe and efficient operation at height. The trucks are also ideal for the double-depth storage of two pallets one behind the other. Ergonomic and individually adjustable control elements as well as a vibration-free operator's seat enable fatigue-free operation.
Characteristics
Safety
The torsion-resistant, visibility-optimised lift masts on R10 - R25 reach trucks help increase safety and efficiency when handling loads at height. An parking brake that engages automatically when the operator exits the truck enables secure stopping on ramps and gradients. Linde Curve Assist ensures safe speeds around bends. Four braking systems reliably stop the truck, even in unforeseen situations. A wide range of additional equipment provides additional safety: For example, an armoured glass panoramic roof provides the best possible view of the load. The optional Dynamic mast control assistance system compensates for mast oscillation with quick and precise counter-movements and also counteracts mast bend during storage and removal. This reduces the risk of accidents and accelerates work processes.
Torsion-resistant mast designed for optimal visibility
Automatic parking brake
Linde Curve Assist
Four braking systems
Optional dynamic mast control
Ergonomics
A design concept based on the varying ergonomic requirements of the operators means that Linde trucks let you work without tiring. All components, such as the operator's seat with air suspension and the control elements, can be individually adjusted. The air suspension automatically adjusts to the operator's weight. The vibration-free operator's cab reduces vibrations on uneven surfaces. The intuitive control elements and a low entry point enable effective and comfortable operation.
Ergonomic overall concept
Operator's seat with air suspension
Individually adjustable seat and console
Low access height
Vibration-free workstation
Intuitive and fatigue-free operation
Handling
The powerful drive and lifting motors, together with the intelligent Linde control technology, enable particularly high handling performance when working with R10 - R25 reach trucks. Thanks to the efficient dual-pedal control with short pedal paths, and high manoeuvrability due to the short wheelbase, these models can operate extremely quickly and safely – even in confined storage conditions and at height. The large range of models, extensive special equipment options and high residual load capacity mean that the trucks are ideal for various demanding logistics tasks.
Powerful motors
Dual-pedal control
Outstanding manoeuvrability
Extensive model range and special equipment
High residual load capacity
Service
Linde trucks are designed for quick and straight-forward service. This is also ensured by easily accessible components. The service technician simply raises the operator's seat using the pneumatic spring to immediately gain access to the truck's electronic and hydraulic components. The motors are maintenance-free. In addition, truck servicing is only required every 1,000 operating hours. These features make R10 - R25 trucks extremely reliable and cost-effective to operate, with outstanding availability.
Easily accessible components
Maintenance-free electric motors
Service every 1,000 operating hours
High cost-effectiveness and availability
Technical Data
| Model | Load capacity/Load | Lift | Battery voltage/rated capacity (5h) | Travel speed, with/without load |
| --- | --- | --- | --- | --- |
| R10N | 1.0 (t) | 5760 (mm) | 48 / 420/465 (V)/(Ah) | 14 / 14 (km/h) |
| R12N | 1.2 (t) | 5760 (mm) | 48 / 420/465 (V)/(Ah) | 14 / 14 (km/h) |
| R14 | 1.4 (t) | 5760 (mm) | 48 / 420/465 [48/201] (V)/(Ah) | 14 / 14 (km/h) |
| R14HD | 1.4 (t) | 7555 (mm) | 48 / 560/620 [48/804] (V)/(Ah) | 14 / 14 (km/h) |
| R14N | 1.4 (t) | 5760 (mm) | 48 / 420/465 (V)/(Ah) | 14 / 14 (km/h) |
| R16 | 1.6 (t) | 5760 (mm) | 48 / 420/465 [48/201] (V)/(Ah) | 14 / 14 (km/h) |
| R16HD | 1.6 (t) | 8255 (mm) | 48 / 560/620 [48/804] (V)/(Ah) | 14 / 14 (km/h) |
| R16N | 1.6 (t) | 5760 (mm) | 48 / 420/465 (V)/(Ah) | 14 / 14 (km/h) |
| R20 | 2.0 (t) | 8955 (mm) | 48 / 700/775 [48/804] (V)/(Ah) | 14 / 14 (km/h) |
| R20HD | 2.0 (t) | 11455 (mm) | 48 / 840/930 [48/804] (V)/(Ah) | 14 / 14 (km/h) |
| R20N | 2.0 (t) | 8955 (mm) | 48 / 700/775 (V)/(Ah) | 14 / 14 (km/h) |
| R20W-1470 | 2.0 (t) | 8955 (mm) | 48 / 700/775 [48/804] (V)/(Ah) | 14 / 14 (km/h) |
| R20W-1670 | 2.0 (t) | 8955 (mm) | 48 / 700/775 [48/804] (V)/(Ah) | 14 / 14 (km/h) |
| R25 | 2.5 (t) | 8555 (mm) | 48 / 840/930 [48/804] (V)/(Ah) | 14 / 14 (km/h) |
Optional Equipment
Polyurethane skids
Polyurethane skids that are gentle on the ground prevent scratches on the hall floor.
Fleet management
The Linde connect: fleet management solution allows truck and user data to be recorded, prepared and analysed. It ensures that industrial trucks are used efficiently, safely and transparently.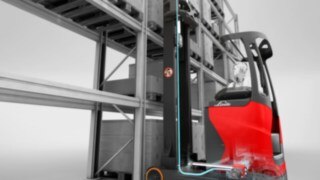 Dynamic mast control
When storing and removing items at height, this dynamic driver assistance system reduces mast oscillation through direct counter-movements with an extremely fast action electric linear drive. Waiting times are eliminated and damage to the rack, load and truck are reduced.
Phone holder
A phone holder helps with operations and increases safety. The employee always has the display in view and within reach.
Wooden handle for joysticks
Wooden handles for Linde joysticks enhance the work station. The non-splintering hardwood provides a pleasant feel, is less susceptible to contamination and is suitable for operators with a plastic allergy.
Lift height pre-selection
Lift height pre-selection accelerates the operating process, improves work safety and relieves the burden on the operator.
Comfortable seat
A comfortable seat with air suspension, leather reinforcement and seat heating. The suspension automatically adjusts to the operator's weight and ensures tailored driving comfort and low fatigue.
Cold store variant
In cold store variant, oils, lubricants and the cabin equipment are designed for temperatures as low as -30° Celsius. This means that the trucks remain fully operational at all times.
Load weight display
A load weight display helps the operator handle loads safely and efficiently.
Mast camera
A camera system with split screen helps the operator handle loads safely. The camera displays both forks, the underside of the load and the work area in the rack. In split screen mode, the system also transmits the image of the additional roof camera.
12 V socket
The 12 V socket allows smartphones or other electronic equipment to be connected and charged in the truck.
Get a Quote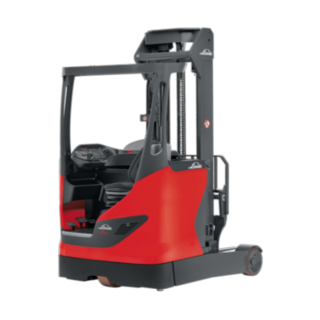 R10 - R25