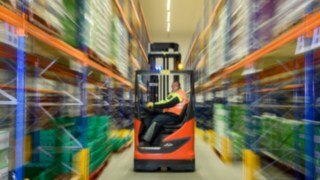 The lithium-ion batteries are really great technology, they allow us to unplug and charge on our breaks. Before this, we were having to manually handle the batteries and now there's none of that whatsoever.
David Lowe, head of procurement at Fowler Welch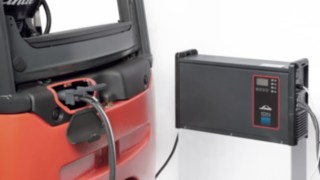 Li-ION batteries from Linde for forklift trucks and warehouse equipment improve operation and handling. They increase the availability of vehicles and make operations more economical, safer and at the same time more sustainable. Many users appreciate the practical advantages in everyday work.
Cost-effective
Li-ION batteries increase the efficiency of the fleet in operation. This results from the technological advantages of this energy system, which offers numerous time and cost advantages in day-to-day logistics and for the associated infrastructure:
High system efficiency
The Li-ION solution from Linde has a particularly high system efficiency. The combination of Linde lithium-ion battery and Linde charger increases the energy yield by 30 percent compared to lead-acid batteries. This leads to lower energy costs.
Intelligent battery management
In addition, vehicle control and battery management are matched to each other, for example through the CAN bus interface, which enables systems to communicate with each other. The battery system thus balances peak loads and at the same time provides sufficient energy. This protects the battery and prolongs its operating life.
Reduced maintenance and handling costs
Conventional lead-acid batteries cause a whole series of maintenance and handling costs, which are completely eliminated with lithium-ion batteries. These include, for example, the cost of a second battery, personnel costs for topping up the batteries with water and battery replacement.
Lean charging infrastructure
In addition, there is no longer a complex charging infrastructure with a separate battery room and an extraction system for the gases. The charger for the lithium-ion batteries, on the other hand, can be set up at sensible waypoints, for example for short recharging in the vicinity of break areas or for saving operating time in the immediate vicinity of where the trucks are used.

Available
To ensure smooth and efficient logistics operations, warehouse equipment and forklifts must have high levels of availability. This is one of the main strengths of Linde's Li-ION batteries. Unlike lead-acid batteries, the technology is highly efficient and flexible in terms of charging cycles and frequencies.
High speed charging
Linde batteries can achieve a full charge cycle within an hour. Depending on the intensity of the application, Linde trucks can have their availability siginficantly extended by a fast opportunity charge during a lunch break.

Short opportunity charging a good thing
Conventional lead acid batteries should always be allowed to complete a full charging cycle in order to protect the batteries. A completely different situation exists with lithium-ion batteries: even very short interim charges of just a few minutes are not only allowed, but are even desirable. The ideal state of charge for a lithium-ion battery is about 20 to 80 percent of its total capacity. The overall availability of vehicles is significantly increased due to the flexibility of the charging process.
Individual protection against deep discharge
Linde's CAN bus technology incorporates individual settings for protection against deep discharge. When approaching the minimum state of charge , Linde's battery management system in its Li-ION batteries reduces the performance of drive and lift. These values can be set individually for the desired balance between truck availability and battery protection.
Application-oriented capacities
Linde offers two different capacities of battery for each type of truck. This enables companies to select the energy supply of the vehicles individually according to the operating intensity. For example, it is possible to use a forklift truck with the large battery in three-shift operation without charging during the working shift.
Safe
Linde's Li-ION technology also offers the highest level of operator and vehicle safety. Linde engineers have developed a comprehensive safety concept for the entire system covering both battery and vehicle. During the development phase, the batteries undergo a programme of special stress and crash tests.
No hazardous gases
While the hydrogen produced by lead-acid batteries can be explosive, lithium-ion batteries eliminate this risk. In addition, the absence of battery changing often required with lead-acid battery applications means that operators are not exposed to any risk of injury. Since the Li-ION cells are virtually maintenance-free, the operators cannot come into contact with dangerous acids.
Crash tested tray
In accidents involving forklift trucks, enormous forces are exerted by weight. To ensure that the Li-ION batteries in the vehicles are protected even in extreme situations, they have been subjected to a crash test of the maximum load. The video shows: the battery tray, thanks to 25 mm thick steel, prevents the penetration of a fork even at high speed. The mechanical design of the battery thus also meets Linde's high quality standards.
Multi-level safety system
The multi-stage safety system of Linde Li-ION batteries is applied at cell, module and battery level. In addition, the battery management system optimises battery usage by constantly monitoring and harmonising vehicle functions, charging processes and the battery system. This prevents damage caused by overpressure, overheating, over charging or deep discharge.
In addition, not only the vehicle and battery are CE-compliant, but also the entire system consisting of vehicle, battery and charger carries the CE seal of approval for tested safety. As a rule, this is not guaranteed when purchasing the battery as a stand-alone component.
Sustainable
State-of-the-art energy systems are not only highly efficient, they also protect both people and the environment. Linde's Li-ION batteries meet all sustainability requirements. For example, their operation is completely emission-free.
In addition, the operation of forklifts and warehouse equipment with this technology is significantly more energy-efficient, which means that less energy is consumed for the same overall output.


Extended life cycle
The production of lithium-ion batteries also produces fewer pollutants than that of conventional lead-acid batteries. Another advantage of this technology is the longer life cycle of the batteries, which also helps to conserve environmental resources.